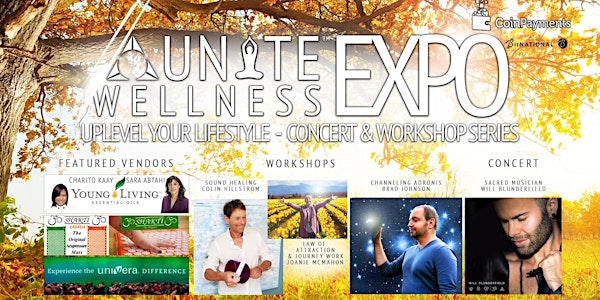 UNITE WELLNESS EXPO ~ UPLEVEL YOUR LIFESTYLE ~ MUSIC & WORKSHOP SERIES
When and where
Location
St James Community Square 3214 West 10th Avenue Vancouver, BC V6K 2L2 Canada
Refund Policy
Refunds up to 30 days before event
Description
ELEVATE YOUR HEALTH, WEALTH, & RELATIONSHIPS
Fall is a time for transformation; journey with us as we guide you towards Emotional Freedom, Comic Understanding, and Ecstatic Bliss.
Join us for a transformational full day experience, with world renowned teachers and artists, presented by UNITE.
>>>Tickets Available @: https://uplevellifestyle.eventbrite.com
EVENT OUTLINE
1-4PM - Law of Attraction 101 & "The Journey" Emotional Release Method with Joanie McMahon
4-5PM - Break & Vendor Expo
5-8PM - Brad Johnson Channeling Adronis with Sound Healer Colin Hillstrom
8-9PM - Break & Vendor Expo
9-10PM - Will Blunderfield Concert
10-11PM - Closing & Vendor Expo
------------------------------------------------
>>>Early Bird Tickets Available at: https://uplevellifestyle.eventbrite.com
------------------------------------------------

EVENT OVERVIEW
Opening with Joanie McMahon's Law of Attraction & Emotional Release workshop, followed by break and integration while nurturing yourself & exploring our Vendor Expo.
Next Sound Healer Colin Hillstrom will open the channeling with a powerful healing experience to unite the tribe and get the love flowing.
Brad Johnson Channeling Adronis will take the stage and share a cosmic download, followed by a channeled Q&A period. More integration and connection with our Vendors to follow.
Finally, crack open your heart and raise the vibe with Will Blunderfield's sacred chants and elevating ecstatic concert.
------------------------------------------------

TOPICS COVERED INCLUDE:
-Law of Attraction 101
(Based on Abraham-Hicks, taught by a Psychologist www.abraham-hicks.com)

-Emotional Release Work ~ The Journey
(Pioneered by Brandon Bays & endorsed by Tony Robbins & Deepak Chopra) www.thejourney.com)

-Sound Healing
(Benefits: https://blog.mindvalley.com/sound-healing/)
-Cleansing and Detoxification
-Altering Reality
-Local Healthy Vendor Expo

-Sacred Chants & Healing Songs

At our vendor market you will find superfoods and herbs, healers, massage and wellness coaches, local artisans, crystals and more. This gathering will leave you feeling inspired, nourished, and ultimately, the best ever!
>>>Tickets Available at: https://uplevellifestyle.eventbrite.com
------------------------------------------------
YOUR HOSTS:
ABOUT Joanie McMahon
Joanie's Story:
https://www.youtube.com/watch?v=9G_Ow464uaM&feature=youtu.be
Our Thoughts Become Things – How is This So?
with Joanie McMahon MA – PsyD (ABD)
(604) 349 – 0917
Email: growwithjoanie@gmail.com
Joanie McMahon is an educator, counselor, psychologist, workshop presenter, public speaker & lecturer and has been for over 35 years. She has worked in many settings including private practice, schools, universities, private clinics, graduate schools of psychology and hospitals.
Joanie sees herself as first and foremost a teacher. Holistic Wellness has been her primary interest all her career.
In these 2 - 3-hour workshops, Joanie will go over in detail, practical hands-on skills and knowledge about "how our thoughts become things."
Law of Attraction principles combined with powerful process skills will set you on your life's path being more fully conscious on how to be the deliberate creator of your own life. Relationships, abundance and health all can become guided purposely and deliberately by what you will learn.
Your love for life will flourish!

ABOUT Brad Johnson & Adronis
Adronis: "Alter Reality" & Live Q&A
Brad Johnson, channeler of the multidimensional Sirian consciousness, Adronis, will be sharing a guided meditation that assists with reprogramming the cells within our own body to cleanse and detoxify toxins within organs. This practice is called the "Cellular Organ Repair" guided meditation. Afterwards, Brad will be introducing Adronis as he speaks on "Altering Reality." Through this presentation, Adronis will share insight on our capabilities as creators to align in a conscious Theta brainwave state so that we can reconstruct our reality through our focused intent. Adronis will also be giving guidance on working through personal limitations that will help with becoming a powerful and masterful manifester.
Adronis will also be available for live audience Q&A where all attendees can ask any question of their liking.
Brad Johnson's website: www.newearthteachings.com

ABOUT Will Blunderfield
Will Blunderfield is a Yogi and best selling world music musician, best known for his uplifting yoga classes and albums like "Hallelujah," which has hit #1 on the iTunes World Music Charts multiple times. Bif Naked calls him "a powerful and beautiful mentor" and New York Times best-selling author Dr. Christiane Northrup says "Will has the voice of an angel." Will has been teaching yoga and performing globally for the last 10 years, and is currently a Buddhist Mindfulness Based Stress Reduction Teacher in training, aiming to make these ancient practices available to anyone who is interested in using these profound tools to create the life they want to experience.

ABOUT UNITE
UNITE creates opportunities for expansion into higher states of consciousness through regular meditation, music, and experiential education events worldwide.
To be a sponsor or vendor for UNITE events contact: shine@unite.love
Join the UNITE VANCOUVER COMMUNITY:
Newsletter: www.eepurl.com/cBJr8n
Facebook Page: www.facebook.com/pg/unitewithin
Facebook Group: www.facebook.com/groups/UniteVancouver/

------------------------------------------------
FEATURED VENDORS FOR NOV 11th
Shakti Mat Canada
the Original Acupressure Mat
With team ~
Nicole Visca
&
Stephanie Rose
Charito Kaay
&
Sara Abtahi
with Young Living Essential Oils!
https://saranutritionalconsulting.ca/
UNIVERA - Bringing the best of nature to humankind!
With team ~
Rebecca Olson
,
Steve Wilbur
, Amanda Skalski &
Matthew Learning
https://newunivera.com/UBC/love
--------------------------------------

THANK YOU TO OUR SPONSORS
TITLE SPONSOR
CoinPayments
www.coinpayments.net
www.facebook.com/CoinPayments/
Accept over 65 altcoins now. Payment gateway for cryptocurrencies such as Bitcoin and Litecoin.
SPONSORS
Bitnational Inc.
www.bitnational.com
www.facebook.com/bitnational/
Fast. Simple. Secure. Buy & Sell Bitcoin Using Canada's Best Bitcoin ATM Network.
------------------------------------------------
>>>Tickets Available at: https://uplevellifestyle.eventbrite.com
------------------------------------------------