Join us for our massive 5th anniversary of the events that changed everything for San Diego Pride's nightlife experience!
About this Event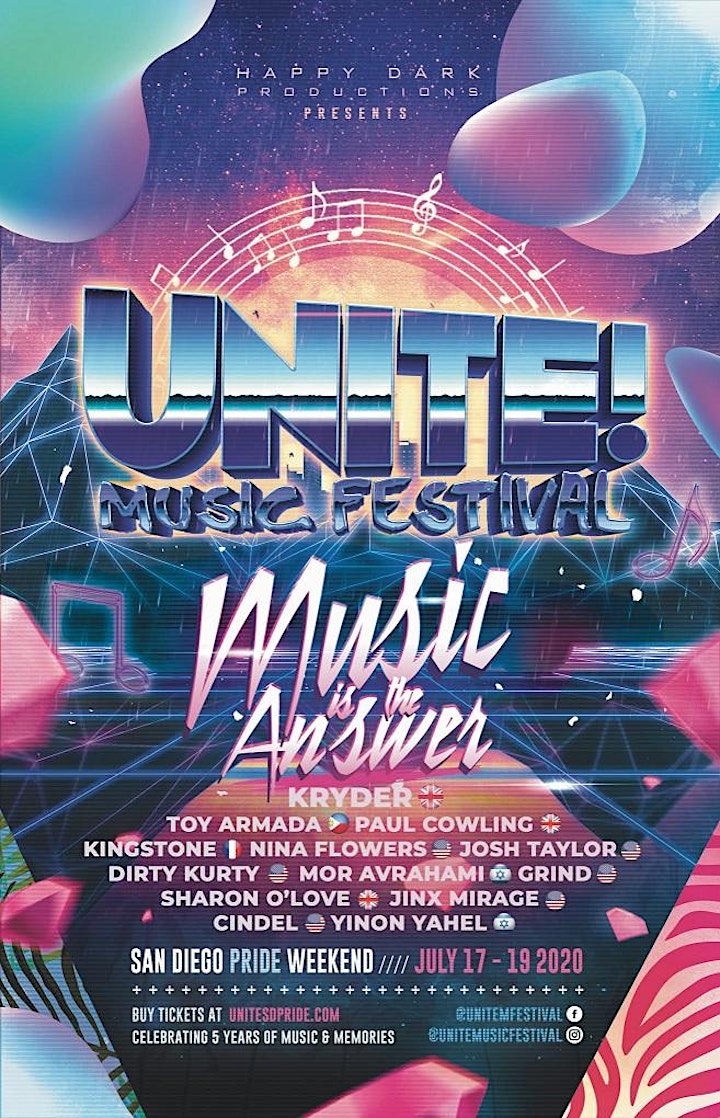 For our 5th anniversary year, we are pulling out all the stops to wow you with stellar music, liberating fun and good vibes with three massive, high-quality main nighttime events by Masterbeat, Overdrive & Forever Tel Aviv! Featuring cutting-edge technology & sound, a diverse musical landscape, festival style production and friendly but intense energy from start to finish, we aim to leave you breathless!
7/17/20 ☆ Friday ☆ 10:00pm-4:00am ☆ Masterbeat
GRIND B2B Toy Armada (OTC) (USA/Philippines)
7/18/20 ☆ Saturday ☆ 10:00pm-8:00am ☆ OVERDRIVE
Paul Cowling 10:00pm-12:00am (USA)
Kryder 12:00am-2:00am (UK)
Kingstone 2:00am-5:00am (France)
Nina Flowers B2B Cindel 5:00am-8:00am (USA / USA)
Terrace DJ - Josh Taylor 12:00am-4:00am (USA)
7/19/20 ☆ Sunday ☆ 10:00pm-9:00am ☆ Forever Tel Aviv
Dirty Kurty 10:00pm-12:30am (USA)
Mor Avrahami 12:30am-3:00am (Israel)
Yinon Yahel 3:00am-5:30am (Israel)
Sharon O'Love 5:30am-9:00am (UK)
Terrace DJ - Jinx Mirage - 12:00am-4:00am (USA)
☆ 1 amazing, 10,000 square foot, 3-story nightclub with rooftop bar and massive lighting, laser, sound, video artist & LED production! ☆ Spin San Diego | 2028 Hancock St.
We are proudly donating a portion of our proceeds to the Sunburst Youth Housing Project for LGBTQ youth in San Diego.
Refund Policy: If the currently scheduled July 17-19, 2020 dates for San Diego Pride were to be moved due to the current COVID-19 crisis, previously purchased passes would be valid for either the new 2020 San Diego Pride dates or an equivalent pass for our 2021 event dates. If neither of those will work for a patron, we will honor refund requests sent to info@iamhappydark.com. Please include your original email purchase receipt with your request.