Description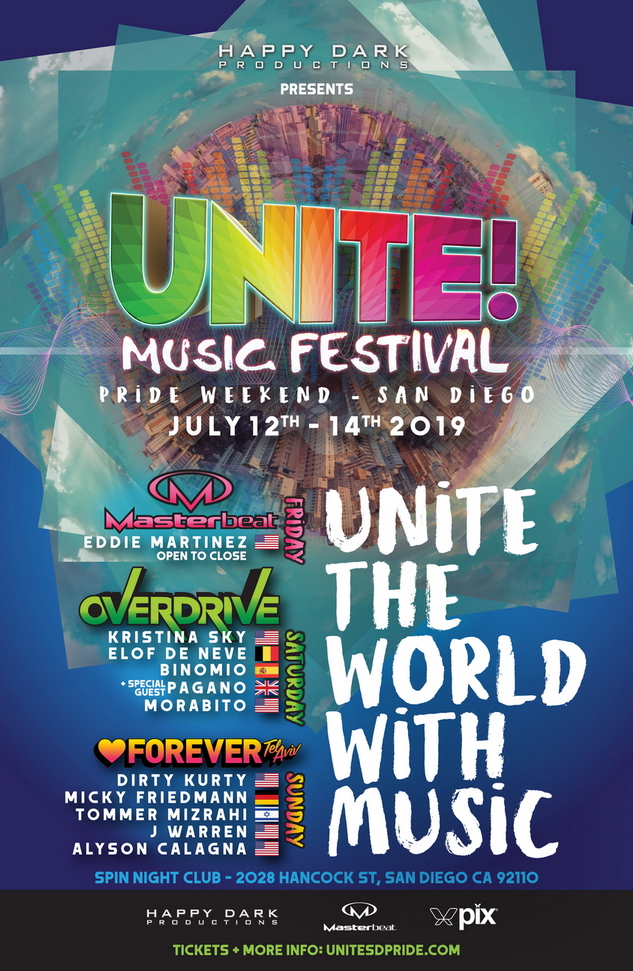 UNITE! Music Festival is an all-inclusive nightlife experience. We strive to bring all walks of life together to laugh, dance and live. Join us as we come together for three days of stellar music, liberating fun and good vibes with three massive, high-quality main events featuring cutting-edge technology & sound, festival style production and intense, friendly energy from start to finish.

☆ Friday, July 12 - Masterbeat - 10pm-4am ☆
Eddie Martinez (Open to Close)

☆ Saturday, July 13 - Overdrive - 10pm-8am ☆
Kristina Sky ☆ Elof de Neve ☆ Binomio ☆ DJ PAGANO ☆ Morabito (on the terrace)

☆ Sunday, July 14 - Forever Tel Aviv - 10pm-9am ☆
DJ Dirty Kurty ☆ Micky Friedmann ☆ Dj Tommer Mizrahi ☆ DJ J Warren ☆ Alyson Calagna (on the terrace)

☆ 1 amazing, 10,000 square foot, 3-story nightclub with rooftop bar and massive lighting, laser, sound, video artist & LED production! ☆ Spin San Diego | 2028 Hancock St.

We are proudly donating a portion of our proceeds to the Sunburst Youth Housing Project for LGBTQ youth in San Diego.