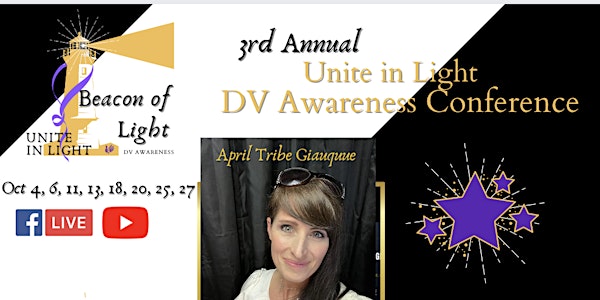 Unite in Light! Virtual Conference To Overcome Domestic Violence
Unite in Light DV Conference: 8 Secrets to overcoming Domestic Violence that attendees can implement, heal, and become free!
About this event
April Tribe Giauque, Founder of Unite in Light, escaped her own Abyss of Abuse 16 years ago and has been a Beacon of Light to tens of thousands helping them to implement the EIGHT secrets to overcoming domestic violence. Are you ready to find answers to all of this shame, pain, and lies?
Number One Lie: Domestic Violence is a "women's issue." That LIE is CRUSHED at the conference.
Truth: Domestic Violence is a man's, a family's, and society's issue. You treat others with love, forgiveness, and respect if you know your worth! When you don't know who you are, you damage yourself and others in the darkness of that lie.
Answer: We must all find our light—our worth! It comes down to making a choice to follow light and stop listening to the lies, the shame, and the pain.
We all and life, light and WORTH!
When we know who we are, we are 100% prepared to do the following:
1) PREVENT DV, 2) See the RED FLAGS, 3) GET through the Trauma, 4) Find Healing, 5) Address how Men Make the Difference, 6) Become Financially Independent, 7) Make an Exit Plan, 8) And teach others how to be the Ultimate Supporter.
Join us—eight amazing Speakers—for a virtual event held every Tuesday and Thursday in October—over eight days—at 6:30 pm Mountain that will bring you the eight secrets to overcoming the darkness of DV and UNIT in LIGHT!
Dates and Speakers:
All events will be broadcast through Streamyard on my FB group "Beacon of Light Podcast" and through my Youtube Channel, April Tribe Giauque Beacon of Light. Tune in to the night that will help you, or tune into Each NIGHT!
The choice is yours!
All Speakers will start at 6:30 pm Mountain.
October 4th: Domestic Violence Prevention–Andrea Merriman
October 6th: Red Flags in Relationships–Keely May
October 11th: Moving through and beyond trauma- Rachel Brooks
October 13th: Healing from Emotional/Mental/Spiritual Abuse Donna Scott
October 18th: Men Make the Difference- Panel
October 20th: Financial Independent–Estella Gibson
October 25th: Exit Plans Illa Lynn
October 27th: Ultimate Supporter April Tribe Giauque
FREE TICKETS and GIFTS!
TICKETS: PLEASE GET YOUR TICKETS so you can get the FREE GIFTS! This is not a ZOOM event, but it is ONLINE through STREAMYARD on my FB group and Youtube Channel. Just show up there at 6:30 pm each Tuesday and Thursday night in October for incredible healing and LIGHT!
Each author has a free gift to give away to everyone who shows up with an Eventbrite ticket to the UNITE in LIGHT Conference. Our team will contact you with that gift once you have signed up.
There will be an opportunity to purchase the author's books so that you can go deep into their teachings. Think of it! For less than $20, you will have access to healing from trauma, pain, and lies.
That is an investment in you! Why? You are worth it! That is how we can Unite in Light!