Description
ANNOUNCING OUR UNITE CENTRE FUNDRAISER!
Join us in our home for a taste of what will be offered regularly at our UNITE Centres.
EVENING INCLUDEDS
Catered healthy foods & drinks

Featured community products & services

Experiential leading edge wellness technologies

Live music, DJ & Dance Party
Tickets for this fundraiser event $111.
Please join us as we begin fundraising for the launch of our crowdfunding campaign this summer.
To make it super successful, we are starting to raise money now! The more we can raise pre-launch, the better the chances it will go viral.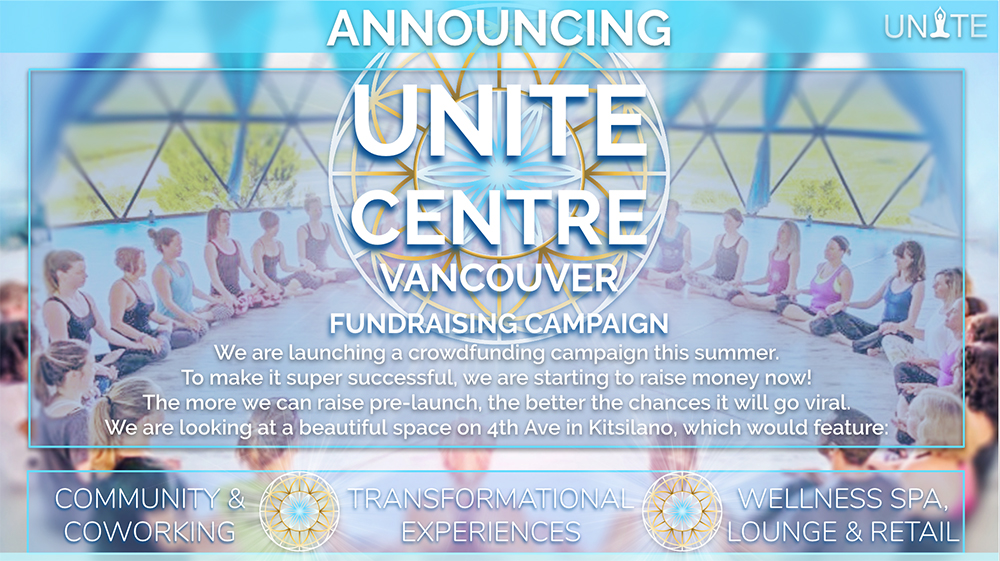 ABOUT THE SPACE
We are looking at a beautiful space on 4th Ave in Kitsilano, which would feature:
Community & Coworking

Transformational Experiences

Wellness Spa, Lounge & Retail
We're excited to continue to grow & expand with the support of our community. We aim to offer high vibration events & experiences to connect us with our highest potential, and with others of like mind.
Here's a link to more in depth information and a schedule of our upcoming events.
NEXT PHASE
Our goal is to raise $15,000 by March 31st (and more to come)!
Here's how you can support right now: e-transfer or paypal to connect@unite.love or pay here by credit card.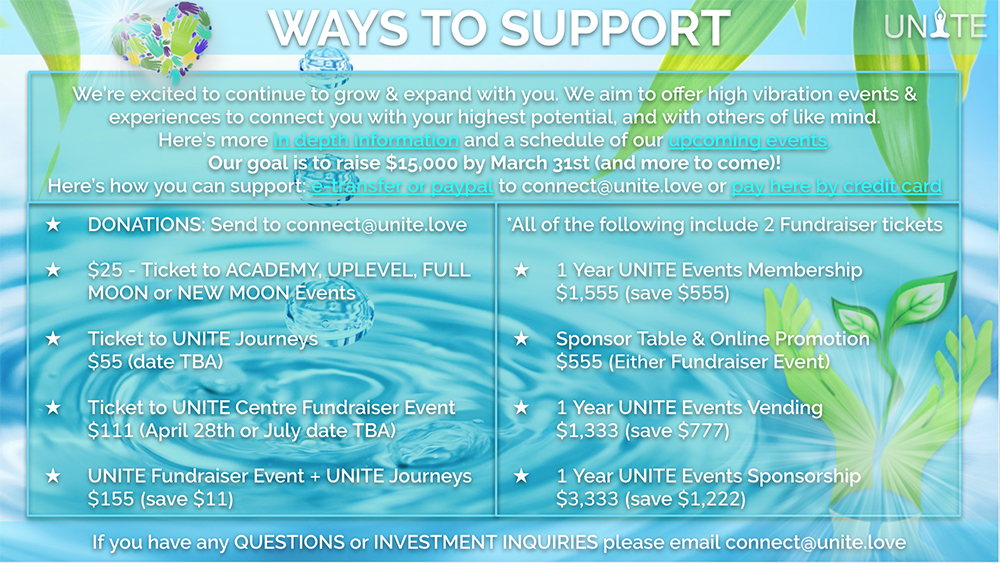 WAYS TO SUPPORT
DONATIONS: Send to connect@unite.love
$25 ~ ACADEMY, UPLEVEL, FULL MOON or NEW MOON Event ticket
$55 ~ UNITE Journeys ticket (date TBA)
$111 ~ UNITE Centre Fundraiser Event ticket (April 28th or July date TBA)
$155 ~ UNITE Fundraiser Event + UNITE Journeys (save $11)
*All of the following include 2 Fundraiser tickets
$1,555 ~ 1 Year UNITE Events Membership (save $555)
$555 ~ Sponsor Table & Online Promotion (Either Fundraiser Event)
$1,333 ~ 1 Year UNITE Events Vending (save $777)
$3,333 ~ 1 Year UNITE Events Sponsorship (save $1,222)
For INVESTMENT INQUIRIES or QUESTIONS
Please Email connect@unite.love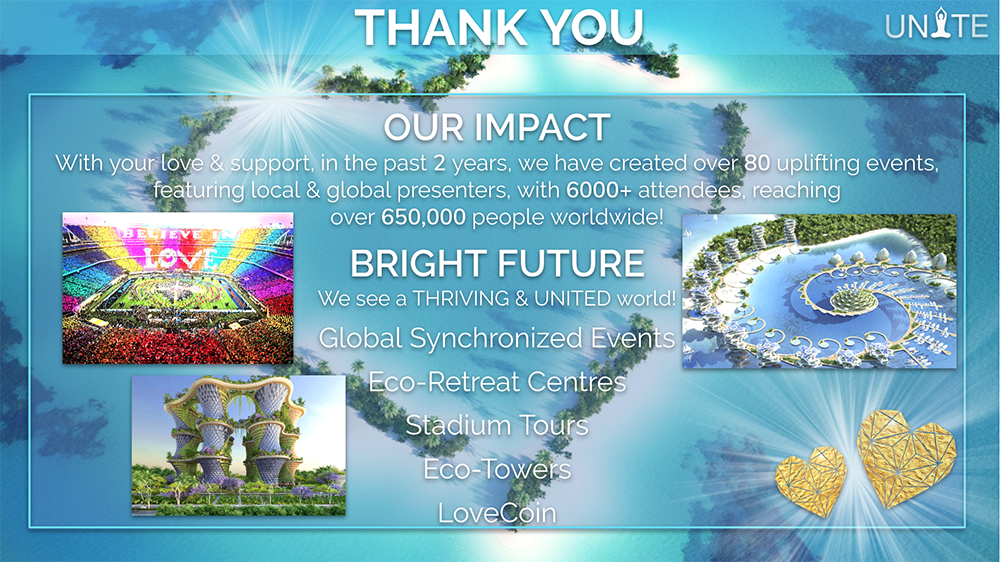 OUR PAST IMPACT
With your love & support, in the past 2 years, we have created over 80 uplifting events, featuring local & global presenters, with 6000+ attendees, reaching over 650,000 people worldwide!
BRIGHT FUTURE
We see a THRIVING & UNITED world!
Global Synchronized Events
Love!
Please do help us bring our UNITED future to life!
Support how you can and, share share share!

In Gratitude & Love,
~Shine & Kristall and the whole UNITE Team!