Unite 2013
When and where
Location
Vancouver Convention Centre 1055 Canada Pl Vancouver, BC V6C Canada
Description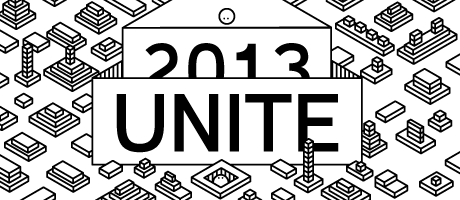 Unity Developer Conference: Unite 2013

Unite is Unity Technologies' annual user conference and the authoritative forum for developers, publishers, training providers and enthusiasts to discuss and learn about Unity—the market leading platform for creating video games, training simulations, medical and architectural visualizations and other interactive 3D content.

Unite 2013 offers three days of learning, including advanced hands-on class tutorials, technical sessions, previews of upcoming Unity tech and an opportunity to attend some awesome parties. It's an amazing place to meet fellow developers, learn new techniques and network in a creative and communal environment.

When:
Unite 2013: August 28-30, 2013, 9am-6pm
Training Day: August 27, 2013, 10am - 5pm
Early Badge Pick Up: August 27, 2013, 1:30pm - 7pm
Awards Ceremony: August 29, 2013, 8pm - 9pm
Unite Party: August 29, 2013, 9:30pm - 2am - The Commodore Ballroom

Where:
Vancouver Convention Centre
1055 Canada Place
Vancouver, BC, V6C 0C3
Canada
NEW!
Plan your time at Unite 2013 by using our mobile event website. View the schedule, session descriptions, speaker bios, venue map, and more. Bookmark it!

Training Day - How is this different?
In addition, Unity Technologies will host a separate Unity Training Day event, also at the Vancouver Convention Centre, on August 27. The purpose is to give new and inexperienced users a foundation for Unity development before the big show begins. This year, the Training Day will focus on hands-on tutorials where attendees will build a small project over a full day of information-packed sessions, covering everything from the initial setup of a scene and basic retargeting and animation in Mecanim, to particle effect generation in Shuriken.
*Training Day admittance is not included with Unite Developer Conference registration. Please select the Training Day ticket before checking out.
Please be sure to visit us often at unity3d.com/unite/unite2013 for exciting updates and important information about Unite 2013 and Unity Training Day.

Frequently Asked Questions
Registration
Where can I contact the organizer with any questions?
You may contact us at uniteinfo@unity3d.com.
How do I get my badge? And do I have to bring my printed ticket to the event?
Badges will NOT be mailed to you. To reduce paper waste, please download the Eventbrite mobile app onto your mobile device, and have your electronic ticket ready on your device at event check-in, along with your photo ID. If you are unable to use the mobile app, you may bring the printed paper ticket from your email.
What should I bring to the event?
No equipment is required for the main conference. (For Training Day, see below.) If you want to bring a laptop or tablet to Unite for note-taking or to show off your awesome project, feel free to bring it along. Don't forget to bring your e-ticket on your device, photo ID, and your camera--because both Vancouver and the Convention Centre are photograph-worthy locations you will not want to forget.
Training Day
If you registered for our day of hands-on tutorials with the Unity crew, you will will need to bring your laptop, power (and any necessary international adapters*), and a mouse--or whatever accessories you work best with. Please find Unity's system requirements here. At the training, we will be providing you with a temporary Unity license key and the assets for building your project.
*Electricity in Canada is 110 volt AC (alternating current) — the same as in the United States.
How does student pricing work?

Unity loves its student developers and excited to offer a 55% discount for Unite tickets! You will have full access to all 3 days of the Developers Conference--no strings attached. To qualify, you must be a current student and possess a photo student ID, which you will be required to present at badge pick-up. Ticket numbers are limited! And if you are a newer Unity user, remember to also register for Training Day to get some hands-on learning with the Unity team. If you have any questions about student verification, please contact us at uniteinfo@unity3d.com.
I'd like to have a meeting with one of your sponsors. How can I arrange that?
If you would like to have some one-on-one time with one of Unity's partners for Unite 2013, contact them here to arrange a meeting!
What is the refund policy?
There are no refunds or credits for Unite nor Training Day. However, both Unite and Training Day tickets are transferable. (See below.)
Is my registration/ticket transferrable? Can I update or change my registration information?

Yes, you may transfer your ticket to another person or update your registration information yourself by following the instructions here. It is important to update all personal registration information so your badge information will be correct.
Is there food served at Unite? I get really hungry when I hear excellent speakers.

Your ticket to Unite includes a fabulous lunch made with fresh, local ingredients and prepared from scratch by the five-star catering at the Vancouver Convention Centre. Morning refreshments (coffee and tea) will also be offered. There is no lunch provided with Training Day, but if you want to grab a meal at any time, you can either take the connector to the food court in the East Convention Level or just run outside to one of the awesome food trucks or local restaurants nearby.
Do I need a credit card to buy tickets to Unite?
Please use a credit card for your purchase. Major international cards are accepted. If you have a payment method issue that you cannot resolve on your own, please contact us at uniteinfo@unity3d.com to see if we can help.
Unite sessions
When will the sessions schedule for Unite 2013 be made available?
Our sessions schedule is now available here. Please check it regularly for updates. And get excited--we have annouced Richard Garriott de Cayeux as our guest keynote speaker!
Unity Awards ceremony
Is the Unity Awards ceremony included in my Unite ticket?
Yes! Just show up wearing your Unite 2013 badge and you'll be admitted to the Unity Awards ceremony.
Can I attend the Unity Awards if I don't attend Unite?
The Unity Awards ceremony is restricted to those with Unite 2013 badges. Training Day-only ticket holders will not have access to the Unity Awards and Party.
Unite 2013 Party
I like to party. How can I make my dreams come true?
Our annual Unite party will be a great opportunity to let your hair down and party with all of the other Unite 2013 attendees. This year the party will be held at the prestigious Commodore Ballroom in Vancouver, and all those with Unite badges will have access to the party. (Minimum legal age restrictions will apply.)
Can I bring a friend to the party with me?
Only those wearing a Unite 2013 badge will be allowed entrance to the party. Training Day-only purchasers will not have access to the Unity Awards or Unite Party.
Travel and hotels
How do I reserve a hotel room for Unite 2013?
We recommend that you book your hotel accommodation through MCI Vancouver, which has a list of "Official Conference" hotels offering special rates for Unite 2013 delegates.
Why book within the official Unite 2013 housing block:
Special hotel rates available only to Unite 2013 delegates.
Greater networking opportunities exist in hotels inside the block.
Local housing support available should you require assistance.
Friendly booking terms – no full pre-payment required at time of booking and no change fees.
Note that Official Conference hotels will not accept Unite 2013 special rates reservations directly. Reservations must be made on-line through MCI Vancouver's secure website for instant confirmation.
The deadline for reservations is 9am PST Friday July 26th, 2013 in order to guarantee conference hotel rates.
For full travel and hotel and details, please view the information found on our website and click the "Read More" button.
Where can I find more information about Vancouver?
Please visit: http://www.tourismvancouver.com/
Other questions
I would like to speak at the conference. How do I submit a proposal?
The Unite Call for Papers has ended. If you have questions or want to be considered for late submissions, please contact us at uniteinfo@unity3d.com.
Are there ID requirements or an age restriction to enter the event?
Please bring a photo ID to check-in and the Unite Party. All ages and walks of life are welcome at Unite! (If you are underage and do not possess a photo ID, please contact us and special accommodations will be made. We love our young and budding developers.)
Visas & important info about entering Canada

If I am an international attendee, do I need a visa to attend the conference?
Please check this site to see if you need a visa to visit Canada: http://www.cic.gc.ca/english/visit/visas.asp. If you require a visa, please verify your personal visa eligibility, purchase a ticket to Unite, and then contact us for a Letter of Invitation. (Please bear in mind that if your visa is not granted, Unite and Training Day tickets are not refundable. Please verify your personal eligibility prior to ticket purchase.)
How can I get through customs & immigration smoothly when I enter Canada?
Unite 2013 & Unity Training Day have been officially recognized by the Canada Border Services Agency (CBSA) - International Events and Convention Services Program (IECSP). They will be expecting you at the border! Please bring this Letter of Recognition with you and present it at immigration with your passport.
If you are planning on carrying in equipment or supplies other than what is standard for a personal trip (luggage, personal laptop, tablet), please contact us now for further assistance. We can help prevent you from getting held up in customs.