Description
A SIX-COURSE FEAST OF PIT-SMOKED BBQ PAIRED WITH IRISH CRAFT BEER AND WHISKEY TASTING
Recommended by Taste Cork, Failte Ireland, and Ireland's Ancient East.
Embark on a unique gourmet journey and experience the best of Irish BBQ cuisine, prepared with the local meat that is cooked in Holy Smoke's signature barbecue-style, low-n-slow, for four to sixteen hours. The BBQ dishes are then paired with a carefully chosen selection of beers from Cork's microbreweries and Irish whiskeys.

Our pitmasters John Relihan and Decky Walsh will serve up and present an exquisite six-course meal and within each signature dish, you will uncover the art of low-and-slow BBQ.

Food and beer expert Caroline Hennessy will walk you through the process behind the craft of beer brewing and share expert pairing techniques to complete each dish.
Historic venue
Holy Smoke is housed in the original Woodford Bourne Cellars est. 1875, which at one time would carry over 50,000 gallons of choice Cork and Dublin whiskeys, French Cognac, Jamaican Rum, and casks of wines, sherries, and ports, making it a perfect historic destination for this authentic gourmet experience. In its short time of opening, Holy Smoke has gathered both national and international acclaim and won the Best Newcomer Restaurant in Munster Award with the Restaurant Association of Ireland.


Your Gourmet Guides
John Relihan, an Irish Food Ambassador, was head chef at Jamie Oliver's Barbecoa Smokehouse restaurant in London and trained with world-renowned Pitmaster Adam Perry Lang in cooking 'low-n-slow' and many different fire methods. After 6 years in the heart of London running the restaurant and foodie festivals, John returned to Ireland and opened Holy Smoke Restaurant in Cork.
Coming from a farming and produce selling family, Holy Smoke's head chef Decky Walsh knows the value of great produce and advocates ethical animal treatment. In fact, Decky's strong belief that animals that feed and nourish us must be respected throughout their journey is reflected in every aspect of his cooking. Having trained under Irish top chefs, Decky also spent time in Australia discovering the Aussie BBQ style and then introduced the art of cooking low-and-slow to several parts of Ireland.
Food writer, broadcaster, and author Caroline Hennessy is a member of the Irish Food Writers' Guild, a McKennas' Guide Editor, and a Ballymaloe graduate. She is a co-author, with Kristin Jensen, of Sláinte: The Complete Guide to Irish Craft Beer and Cider (New Island) and is devoted to exploring the fascinating worlds of Irish microbrewed beer and fine Irish food.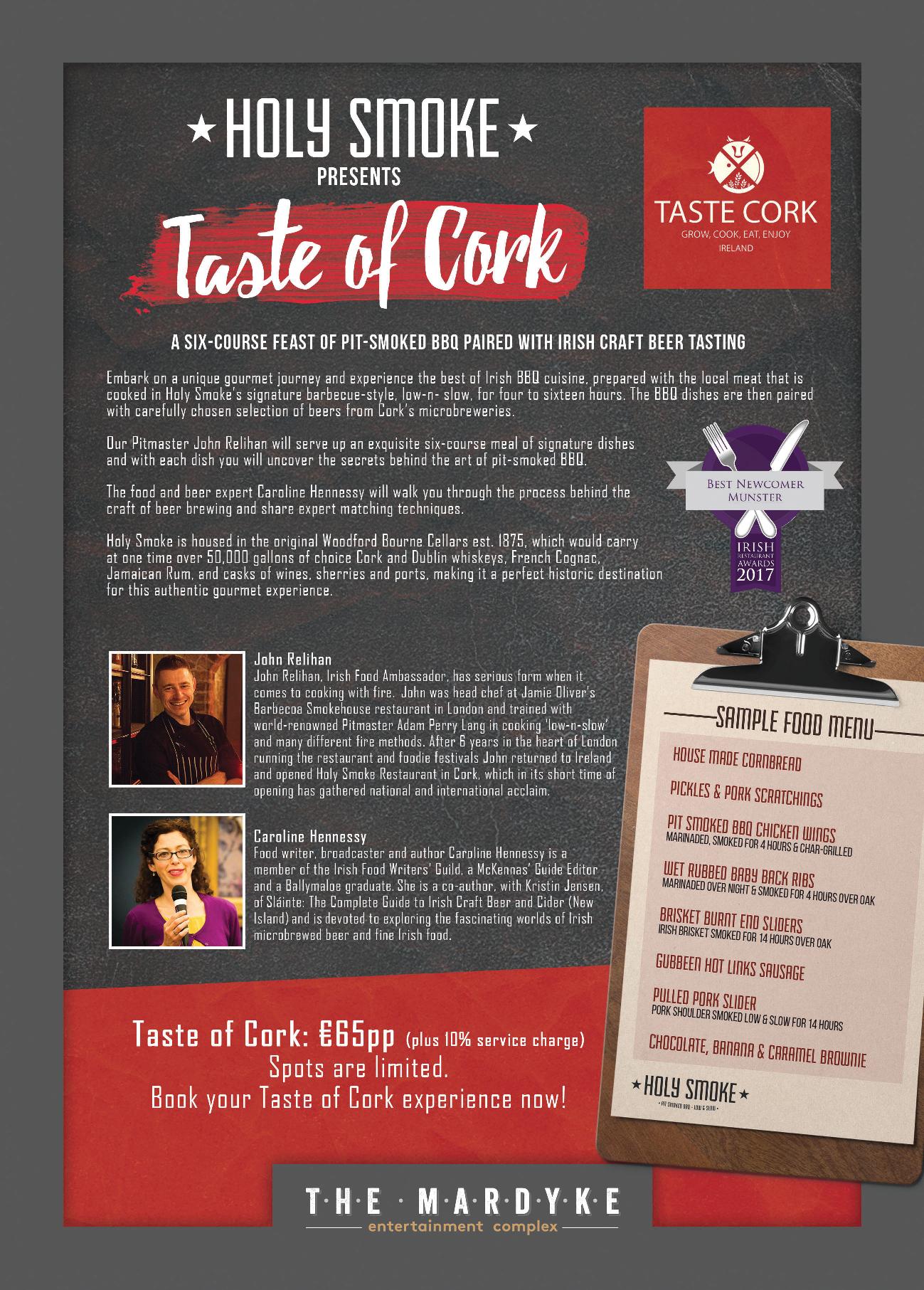 Spots are strictly limited. Catch an Early Bird ticket to your Taste of Cork experience now!