UniPro Summit 2013: RISE - June 1st at Hotel Penn, NYC

Saturday, June 1, 2013 from 9:00 AM to 6:00 PM (EDT)
Event Details
On Saturday, June 1, 2013, Pilipino American Unity for Progress (UniPro) will be hosting its third annual Multinational Forum for Pilipino Young Professionals, Students, and Youth, also known as the "UniPro Summit." 
To make a donation and help fund Summit, see our project on PhilAmTHropy and receive special rewards!
--

Summit 2013: Rise

RISE (v.) - 1. to move from a lower to a higher position; move upward; ascend 2. to come into action 3. to advance to a higher level of action, thought, feeling.

Last year's Summit focused on the Pilipino Renaissance - a movement we hope to be a part of in our lifetime, or perhaps one that's already begun. You left Summit 2012 feeling inspired - but now what? 

Promising to continue the momentum of Summit 2012, Summit 2013 is about education and empowerment. We'll give you the practical tools and resources to help you rise. As leaders, we must rise and take action about the issues we care about, so we can rise together as a community.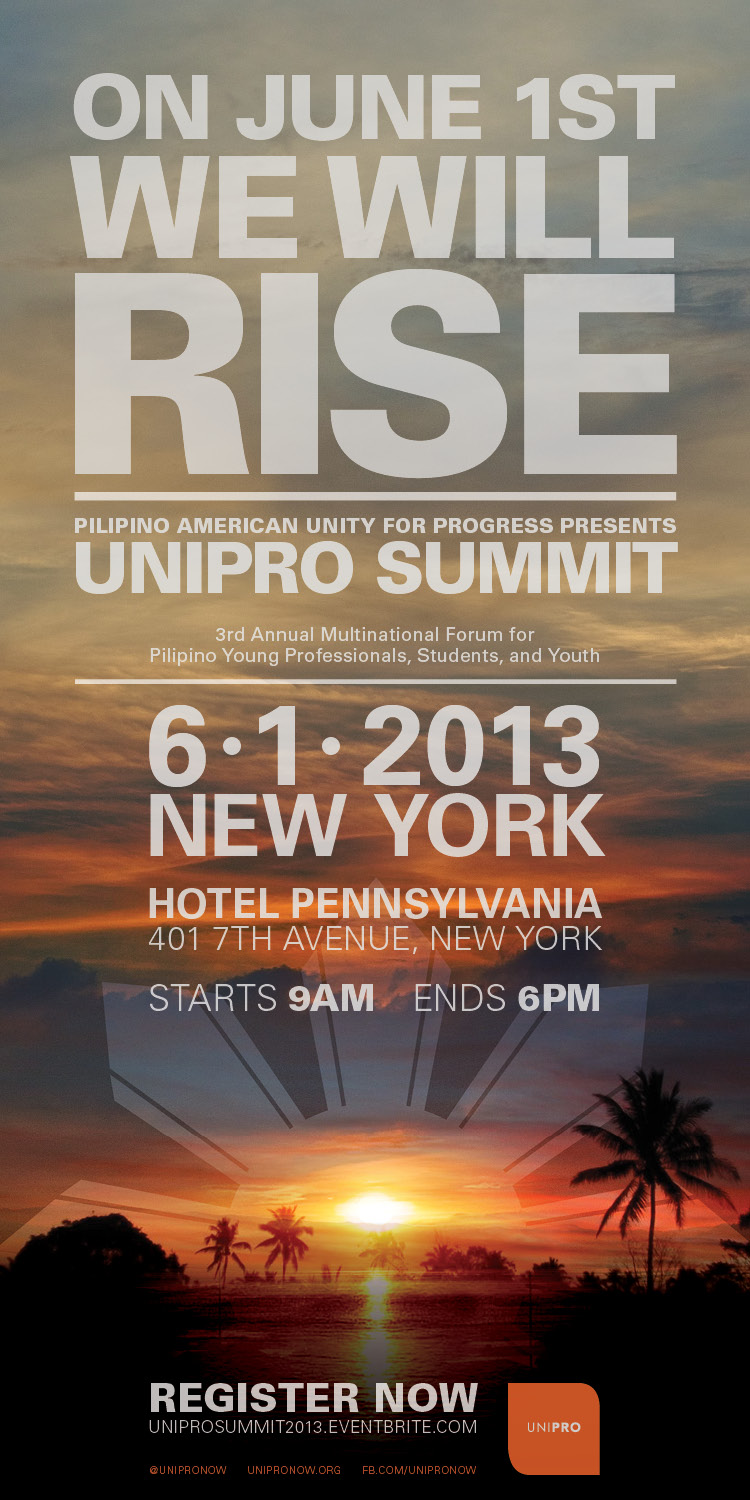 SUMMIT 2013 SPEAKERS 
Ayesha Vera Yu - CEO & Co-Founder, Advancement for Rural Kids (ARK)
Bernadette Ellorin - Chairperson, BAYAN-USA
Hector Logrono - Founder & President, PAGASA Social Foundation, Inc.
Isis Arias - Brand Marketer, Strategist, Event Maven
JT Mallonga - President of Filipino American Legal Defense and Education Fund (FALDEF)
Jason Tengco - Advisor on Public Engagement for the White House Initiative on Asian Americans and Pacific Islanders
Jessica Cox - International Motivational Speaker
Joe Bataan - King of Latin Soul
Krizia Medenilla - Co-Founder of RedefinedMag; Marketing and Communications of Bayani Tour
Matthew Bukirin - Senior Transportation and Budget Analyst at the NYC Mayor's Office of Management and Budget
Rina Atienza - Trustee, Spark & Mettle
Rolando Lavarro - Councilman-At-Large, Jersey City, NJ
Rose Rosales - Philippine Nurses Association of NJ

Theresa Dizon-De Vega - Deputy Consul General & Manager, Philippine Center-NY
Venessa Manzano - Founder & School Director, The Filipino School of NY & NJ
** See full itinerary on our official website **
For more information about UniPro or Summit, visit: http://www.unipronow.org/
Questions? Contact our Summit Co-Chairs: Gecile Fojas (gecile.fojas@unipronow.org) or Iris Zalun (iris.zalun@unipronow.org).
To make a donation and help fund Summit, see our project on PhilAmTHropy and receive special rewards!
Tag words: Filipino, Filipina, Filipino American, Filipino-American, Filipinos, Philippines
Organizer
Pilipino American Unity for Progress (UniPro) is a New York City-based 501(c)(3) nonprofit organization that envisions a world with a unified Filipino American voice. Founded in 2009, UniPro's mission is to engage Filipino Americans through collaboration, advocacy, and leadership development. It seeks to transform Filipino students & young professionals into community leaders through its various programs, which incorporate professional development, history, and policy through the lens of the Filipino experience. Ultimately, UniPro asks Filipino Americans to critically answer, "How do you define Progress?"