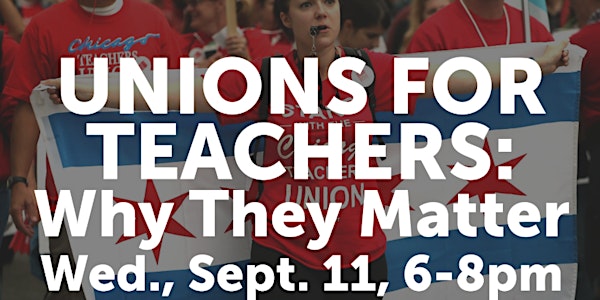 UNIONS for TEACHERS: Why They Matter
This event is for future and current teachers to learn about why unions for teachers matter with a panel, table discussions and free food!
When and where
Location
Chicago Teachers Union Headquarters Chicago Illinois 1901 West Carroll Avenue Chicago, IL 60612
About this event
- Are you studying to become a teacher or other kind of educator?
- Are you a teacher who isn't YET part of a union or has questions about unions for teachers?
- Do you have questions about what it means to be a union member?
Featuring professor and union member Crystal Laura, co-author of You Can't Fire the Bad Ones! And 18 Other Myths about Teachers, Teachers' Unions, and Public Education.
Come hear from local teachers and University faculty about why being in a union for teachers matters.
FREE FOOD & REFRESHMENTS.
ADA Accessible.
Free Street Parking.
Accessible by CTA (50 Damen bus; Green or Pink lines to Ashland)
This event is organized by faculty and teacher educators from Chicago State University, DePaul University, Loyola University, Northeastern Illinois University, University of Chicago and University of Illinois at Chicago, and is being co-sponsored by the following unions and organizations: CTU, SEIU, UICUF, CCCTU, UPI, and GYO.