Union New Year's Eve 5 PM Dinner w/ Nina West + Friends "The DIVA's Show"

Sunday, December 31, 2017 from 5:00 PM to 7:00 PM (EST)
Event Details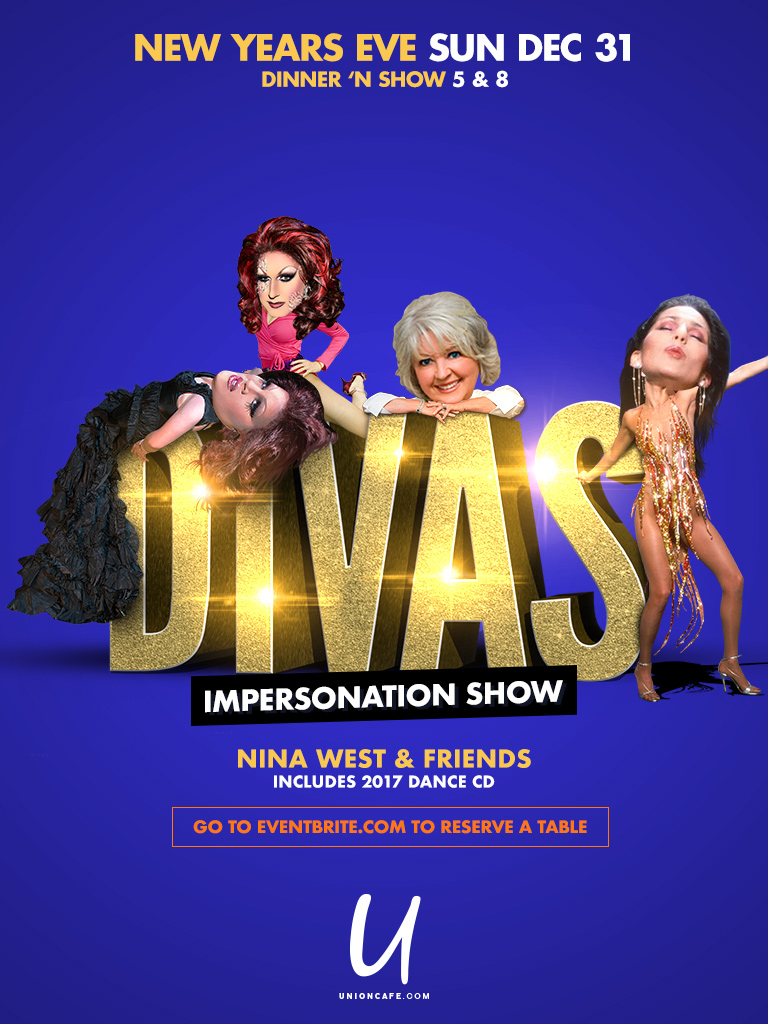 Union Cafe presents Executive Chef Ben's annual New Year's Eve Dinner and Show Package.  This year enjoy a Vegas Style DIVAS show while you eat featuring celebrity camp impersonations by Nina West and friends.  We will be playing Showtunes Videos from 5pm-10pm, then the best videos of 2017.
There are 2 dinner seatings 5pm and 8pm.  When you arrive, the $25 per seat reservation fee will be applied to each person's tab.  A meal purchase is required with each reservation.  You will also receive a complimentary DJ Best of 2017 CD.
For the 5pm seating, please arrive by 5:30pm.  Show is from 6-7pm.  The seats are good until 7:30pm.
For the 8pm seating, please arrive by 9pm.  Show is from 9-10pm.
A non-refundable $25 deposit is required per seat as this event will sell out.  When you buy a table, a deposit per seat at the table is required up front.  All Beverages are all a la carte.  The 3 Course Chef Ben dinner options and pricing are:
Course 1  SOUP or SALAD choice
Lobster Bisque Soup, Italian Wedding Soup, Half Simple Greens Salad or Half Golden Beet Salad
Course 2  ENTREE choices
Vegan Entrée $20
Amish Chicken & Dumplings $25
Chicken Cordon Bleu $25
Lemon Caper Salmon $25
Filet Mignon $30
Course 3   DESSERT choice
Turtle Cheesecake, Salty Caramel Homemade Pretzels, Frozen Custard
A 20% Gratuity will automatically be added to All Dinner checks on NYE Dinner Selections.  
Bar guests are not required to pay for entry or standing room for the shows. 
For Tickets and Tables Please Click Link Below:
https://www.eventbrite.com/o/union-cafe-5287101443
Have questions about Union New Year's Eve 5 PM Dinner w/ Nina West + Friends "The DIVA's Show" ?
Contact UNION CAFE
Venue map / Union Cafe
75560331
Table 1 for 2 People - North Side ($25 per Reserved Seat + $3.45 Fee)
1
#ffbb32
75560332
Table 2 for 2 People - North Side ($25 per Reserved Seat + $3.45 Fee)
2
#ffad33
75560333
Table 3 for 2 People - North Side ($25 per Reserved Seat + $3.45 Fee)
3
#ff9f34
75561221
Table 4 for 2 People - North Side ($25 per Reserved Seat + $3.45 Fee)
4
#ff9134
75562351
Table 19 for 2 People - North Side ($25 per Reserved Seat + $3.45 Fee)
25
#ff3fff
75562350
Table 20 for 2 People - North Side ($25 per Reserved Seat + $3.45 Fee)
26
#f140ff
75562354
Table 21 for 2 People - North Side ($25 per Reserved Seat + $3.45 Fee)
27
#e440ff
75562352
Table 22 for 2 People - North Side ($25 per Reserved Seat + $3.45 Fee)
28
#d741ff
75561223
Table 5 for 4 People - North Side ($25 per Reserved Seat + $3.45 Fee)
5
#ff8335
75561222
Table 6 for 4 People - North Side ($25 per Reserved Seat + $3.45 Fee)
6
#ff7535
75561226
Table 7 for 4 People - North Side ($25 per Reserved Seat + $3.45 Fee)
8
#ff5a36
75561227
Table 8 for 4 People - North Side ($25 per Reserved Seat + $3.45 Fee)
9
#ff4d37
75561229
Table 9 for 5 People - North Side ($25 per Reserved Seat + $3.45 Fee)
10
#ff4037
75561228
Table 10 for 7 People - North Side ($25 per Reserved Seat + $3.45 Fee)
11
#ff383d
75562337
Table 400 for 4 People - Stage Area North Side ($25 per Reserved Seat + $3.45 Fee)
12
#ff384c
75562340
Table 401 for 4 People - Stage Area North Side ($25 per Reserved Seat + $3.45 Fee)
13
#ff395a
75562339
Table 402 for 4 People Stage Area North Side ($25 per Reserved Seat + $3.45 Fee)
14
#ff3968
75562338
Table 403 for 4 People - Stage Area North Side ($25 per Reserved Seat + $3.45 Fee)
15
#ff3a76
75562342
Table 410 for 2 People - Stage Area North Side ($25 per Reserved Seat + $3.45 Fee)
16
#ff3a84
75562341
Table 411 for 2 People - Stage Area North Side ($25 per Reserved Seat + $3.45 Fee)
17
#ff3b92
75562343
Table 12 for 2 People - North Side ($25 per Reserved Seat + $3.45 Fee)
18
#ff3ca0
75562345
Table 13 for 2 People - North Side ($25 per Reserved Seat + $3.45 Fee)
19
#ff3cad
75562344
Table 14 for 2 People - North Side ($25 per Reserved Seat + $3.45 Fee)
20
#ff3dbb
75562346
Table 15 for 2 People - North Side ($25 per Reserved Seat + $3.45 Fee)
21
#ff3dc9
75562348
Table 16 for 2 People - North Side ($25 per Reserved Seat + $3.45 Fee)
22
#ff3ed6
75562347
Table 17 for 2 People - North Side ($25 per Reserved Seat + $3.45 Fee)
23
#ff3ee4
75562349
Table 18 for 2 People - North Side ($25 per Reserved Seat + $3.45 Fee)
24
#ff3ff1
75562353
Table 23 for 4 People - South Side ($25 per Reserved Seat + $3.45 Fee)
29
#ca41ff
75562358
Table 24 for 8 People - South Side ($25 per Reserved Seat + $3.45 Fee)
30
#bd42ff
75562357
Table 25 for 6 People - South Side ($25 per Reserved Seat + $3.45 Fee)
31
#b042ff
75562359
Table 26 for 5 People - South Side ($25 per Reserved Seat + $3.45 Fee)
32
#c29ff0
75562360
Table 27 for 4 People - South Side ($25 per Reserved Seat + $3.45 Fee)
33
#b899f1
75562361
Table 28 for 5 People South Side ($25 per Reserved Seat + $3.45 Fee)
34
#ae93f1
75562362
Table 29 for 4 People - South Side ($25 per Reserved Seat + $3.45 Fee)
35
#a38df2
75562363
Table 30 for 4 People - South Side ($25 per Reserved Seat + $3.45 Fee)
36
#9787f3
75562364
Table 31 for 4 People - South Side ($25 per Reserved Seat + $3.45 Fee)
37
#8a80f4
75562365
Table 32 for 4 People - South Side ($25 per Reserved Seat + $3.45 Fee)
38
#7c7af5
75561220
Table 33 for 4 People - South Side ($25 per Reserved Seat + $3.45 Fee)
7
#ff6836
75562369
Table 36 for 2 People - Outside Heated Patio Bar ($25 per Reserved Seat + $3.45 Fee)
41
#6783f8
75562370
Table 37 for 2 People - Outside Heated Patio Bar ($25 per Reserved Seat + $3.45 Fee)
42
#6189f8
75562371
Table 38 for 2 People - Outside Heated Patio Bar ($25 per Reserved Seat + $3.45 Fee)
43
#5a8ff9
75562372
Table 39 for 2 People - Outside Heated Patio Bar ($25 per Reserved Seat + $3.45 Fee)
44
#5497fa
75562374
Table 48 for 2 People - Outside Heated Patio Bar ($25 per Reserved Seat + $3.45 Fee)
45
#4d9ffb
75562373
Table 57 for 4 People - Outside Heated Patio Bar ($25 per Reserved Seat + $3.45 Fee)
46
#47a9fc
75562375
Table 58 fore 4 People - Outside Heated Patio Bar ($25 per Reserved Seat + $3.45 Fee)
47
#40b3fd
75562367
Glow Bar Seats ($25 per Reserved Seat + $3.45 Fee)
39
#747bf6
75562366
Copper Bar Seats ($25 per Reserved Seat + $3.45 Fee)
40
#6e7ff7
75562376
Out Side Heated Patio Bar ($25 per Reserved Seat + $3.45 Fee)
48
#39bffe
75799831
Cheers
49
#32ccff
When & Where

Union Cafe
782 North High Street
Columbus, OH 43215


Sunday, December 31, 2017 from 5:00 PM to 7:00 PM (EST)
Add to my calendar