Union League Club Women in Politics: Making a Difference

Tuesday, November 14, 2017 from 4:30 PM to 7:00 PM (CST)
Event Details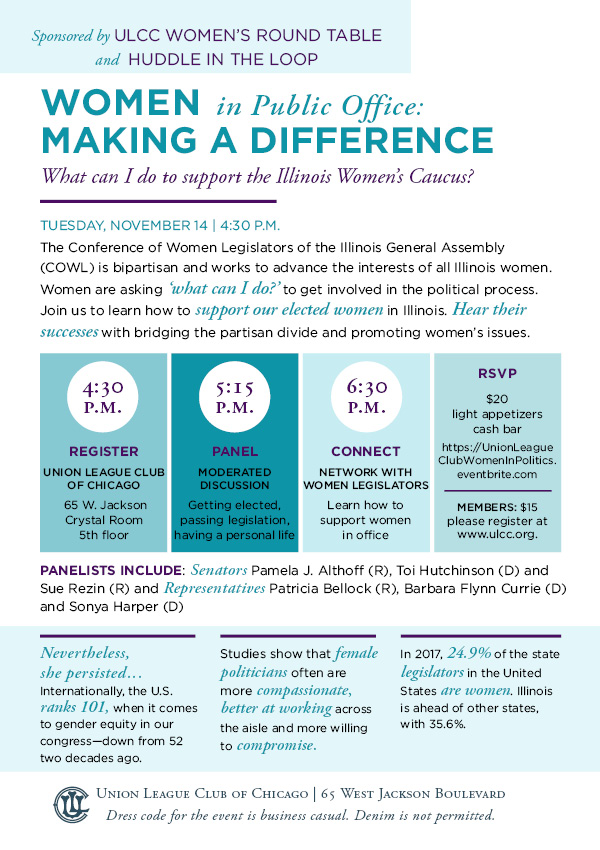 More than ever women are asking the question, "What can I do" after the November election. Huddle in the Loop and The Women's Roundtable invite you to come and meet our Illinois Women Legislators who are part of the Conference of Women Legislators (COWL). This bi-partisan panel discussion will enlighten you on how we can best support our women legislators in the Illinois General Assembly and how you can help support Women in Politics.
Our panelists include: State Senators Pamela Althoff (R), Toi Hutchinson (D) and Sue Rezin (R), together with State Representatives Patricia Bellock (R),  Barbara Flynn Currie (D), and Sonya Harper (D).  Our discussion will be moderated by Madeleine Doubek, Director of Policy & Civic Engagement for the Better Government Association 

The doors open for registration at 4:30 p.m. with the panel starting at 5:15. Light appetizers will be served and a cash bar will be available. The price is $20 per person inclusive.

Please note that the Union League Club has a business casual dress code. Denim is not permitted.