Actions and Detail Panel
UNIFY FEST: Sept. 1-3, 2017 • NEW MEXICO
Fri, Sep 1, 2017, 9:00 AM – Mon, Sep 4, 2017, 12:00 PM MDT
Description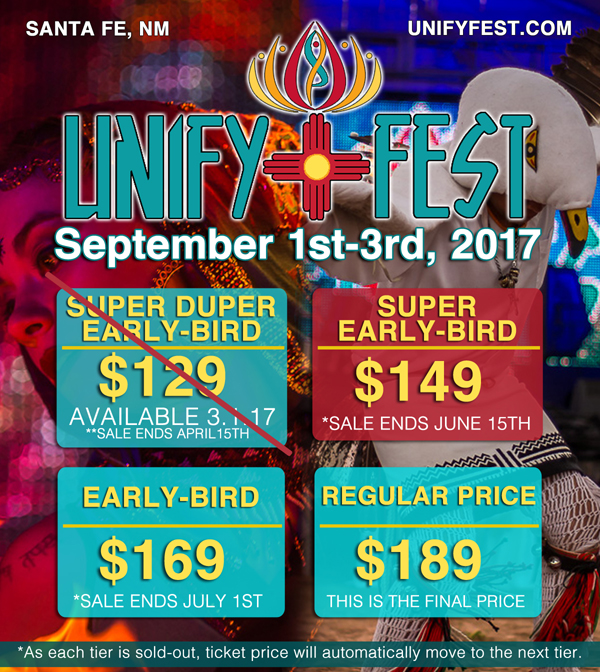 We are truly excited to have you join us for the 2nd annual UNIFY FEST in New Mexico.
Thank you for participating in and co-creating this empowering, uplifting, transformational festival experience.
UNIFY FEST is a collective vision among seekers, dreamers and visionaries to co-create vibrant community and heart-based collaboration through conscious art, ceremony, health, sustainability, spirituality, music and unification of all people. We are a global tribe unified by the wisdom of the heart's intelligence deliberating individual and collective transformation into higher frequencies of purposeful, regenerative and unified living.
Gates open at 9:00 AM on Friday, September 1st
Gates close 12:00 Noon Monday, September 4th
GA Parking: TBD
Early Arrival (additional paid upgrade) gates open Thursday August 31st at 3:30pm.
Gates Close Thursday at 11pm.
NOT ALLOWED AT UNIFY FEST:
No open fires or fireworks
No unauthorized sound systems
No generators
No weapons of any kind
No glass bottles
No propane tanks - small camp stoves only
No Loud Music After Midnight
Prohibited items are subject to confiscation
All sales are final / No Refunds
Yes Tickets Are Transferrable
UNIFY FEST is a "Leave the Land Better Than We Found It" event. We deeply appreciate you being a part of the UNIFY FEST Family! See you soon!
Have questions about UNIFY FEST September 1-3, 2017 in New Mexico? Visit the FAQ Page at www.UNIFYFEST.com