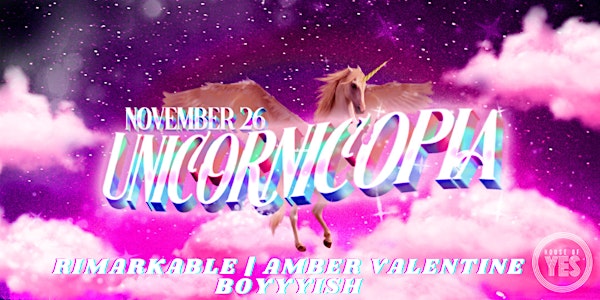 UNICORNICOPIA with Rimarkable, Amber Valentine, Boyyyish
House of Yes presents Unicornicopia, Calling all unicorns, dreamers, fantasy freak fam and creatures of wild imaginations
When and where
Location
House of Yes 2 Wyckoff Avenue Brooklyn, NY 11237
About this event
Welcome back to **Unicornicopia**!!! Every year we gather in the glimmer of the night, to embrace our mischief and unite our magic to create a dancefloor utopia.
Calling all unicorns, dreamers, fantasy freak fam and creatures of wild imaginations- Join us as we spread our wings and frolic in the sweet freedom with our horned creatures of all shapes, origins, and horn sizes. Express your best essence- looks, costumes, adornment and regalia will be rewarded with surprises, prizes! YES you are invited to enter walk in our full-on magical pageant costume contest where we shall crown this year's royal rulers of Unicornicopia! (and win the $222 cash prize!)
Feel your full-force unicorn fantasy and live happily ever after. Forever!
: : : LOOKS : : :
Unicorns! Sparkles! Heavenly looks, sky styles, fantasy freak, horns on horns, mythical magic makers, holographic iridescent excellence, Unicorn hunter, magical creatures of horny wonder! Glitter, glitz, and glam styles that will make you feel majestic. See more inspiration HERE.
: : : MUSIC : : :
: : : EXPERIENCES : : :
aerial sparkle spectacles · glitter unicornification station · unicorn treats · dragons & other mythical beasts · sparkle fortunes · unicorn pageant!
21+ | No Re-Entry
YES, we have tables!- contact Reservations@houseofyes.org to book yours 🍾
Subscribe to our email list for first access to events & tickets: bit.ly/YESEMAILS
* * * SAFER SPACES POLICY * * *
House of Yes is a space for everyone to feel welcome. We have a zero tolerance policy for harassment, unwanted touch, and discrimination. Always ASK before touching anyone at our events. If someone is making you uncomfortable, speak to a security guard or ask for a manager. We will believe you, and we will help. All restrooms in our venue are gender neutral. The entrance to the venue is ADA accessible. Strobe lights are used during performances and parties. Find out more at houseofyes.org/SAFER