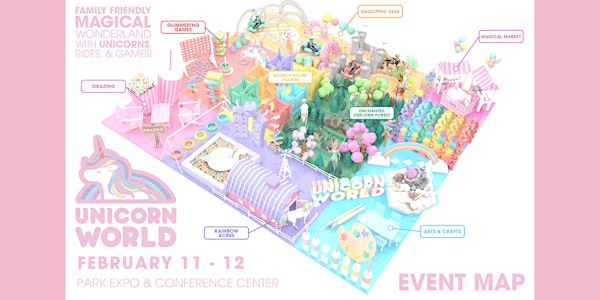 Unicorn World - Charlotte, NC | Feb. 11-12
Life-sized unicorns, a magical forest, and a fun-filled day of unicorn activities + rides for the whole family!
When and where
Location
The Park Expo and Conference Center 800 Briar Creek Rd. Charlotte, NC 28205
About this event
Dates and times:
Saturday, February 11 - 9:00 a.m. - 5:30 p.m.
Sunday, February 12 - 10:00 a.m. - 5:30 p.m.
*The timed entry is simply to control traffic flow and avoid capacity issues. There is no limit to how long you can stay once inside Unicorn World. Last entry time is 4:00 pm. Event closes at 5:30 pm*
Everyone must purchase a ticket in advance online. Children under 2 are free. There is no time limit once inside Unicorn World.
Tickets are non-refundable and non-exchangeable.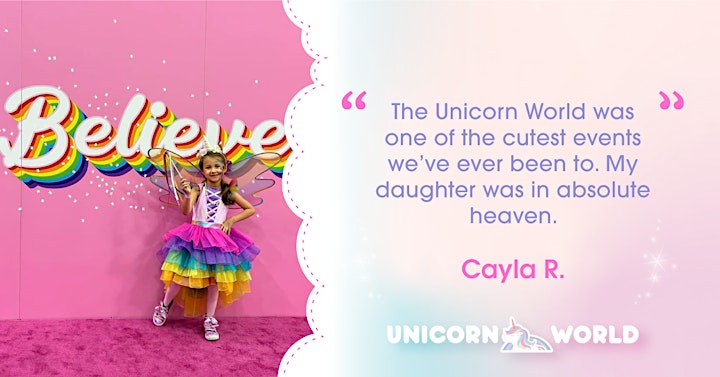 What you can expect from Unicorn World when we visit your hometown:
At Unicorn World, you'll be immersed in the magical world of unicorns. From meeting our unique, animatronic unicorns, to exploring the enchanted forest, to unicorn themed arts and crafts and much, much more! Unicorn World will be like nothing you have experienced before!
Come enjoy a day of family fun and experience the magic of Unicorn World for yourself!