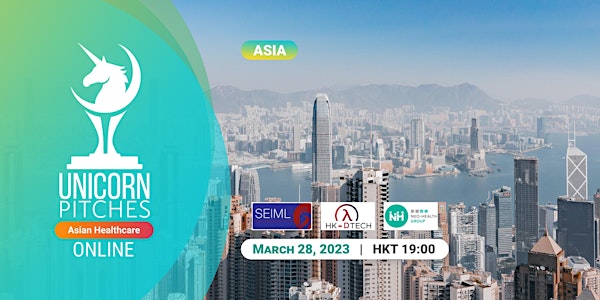 Unicorn Pitches Asian Healthcare
Welcome to the online Unicorn Pitches Asian Healthcare – Semifinals of the World Largest Startup Pitch Contest!
Date and time
Tuesday, March 28 · 4 - 6am PDT
About this event
Welcome to the online Unicorn Pitches Asian Healthcare – part of the World Largest Startup Pitch Contest where famous international VCs and Business Angels meet extraordinary startups from all over the world!
This event is powered by SEIML Ventures.
If you have an innovative early stage company in healthcare, then consider participating in our event to reach new customers, suppliers, strategic partners and VCs.
This event is open to any company registered in any of the ten ASEAN countries and/or Hong Kong and/or Taiwan or to any other company that has a footprint (even small) in these same jurisdictions.
N.B. The Startup with the winning pitch will be offered a free video filming and production of their company by the Organizer to be promoted on social media and any other channels they use.
We accept startups at any stage but having traction and paying customers will be a plus. Anyway, a HEALTH-TECH COMPONENT is a must. Possible areas: Healthcare Diagnostics, Medical Devices, Biopharma, Genetics, Fertility, STDs, Assisted Living, Patient/Child/Eldery Care, Dental, Electronic Health Record, Psychology, Rehabilitation, Wellness, Longevity.
_______
To apply as a startup, click the ATTEND button at the top; select your STARTUP role and fill in all the required fields.
Please fill the application in English and be ready to pitch in English.
If you have any questions during the registration, please use the guideline – https://bit.ly/3AREi8Y
Deadline: March 20, 2023
To join us as a guest, please, register at the Eventbrite page.
Date&Time: March 28, 7 pm (HKT)
Contact: mmi@startup.network
About the organizer
  Unicorn.Events – is the largest global pitch competition for exponential startups that have the potential to become Unicorns.
Startups pitch LIVE to top-VCs, Corp and famous business angels that comprise a Jury that evaluates an investment potential of each startup and give their feedback and advice. Startups directly interact with all the investors during the event!
We make our investors happy! More than USD 345m were fundraised by the startups that showcased themselves at our events.
Participation is absolutely free. Apply to the relevant event depending on your geographical location and your solution
There are 3 types of events:
Unicorn Pitches – online and offline pitch events we do together with our official partners for local startups and local investors. Winners of Unicorn Pitches pitch at Unicorn Battles without prior screening.
Unicorn Battles – online pitch events for international startups form a certain continent (or group of countries) where VCs, Corporations and business angels that invest in this geography evaluate investment potential of startups. Winners pitch at Unicorn CUP.
Unicorn CUP – World Finals – gala-pitch event of each season. To participate you have to win the Unicorn Battle. Only TOP VCs and famous investors participate as Judges.
You can see all our previous events at our YouTube channel
Subscribe not to miss out any future Unicorn!!!