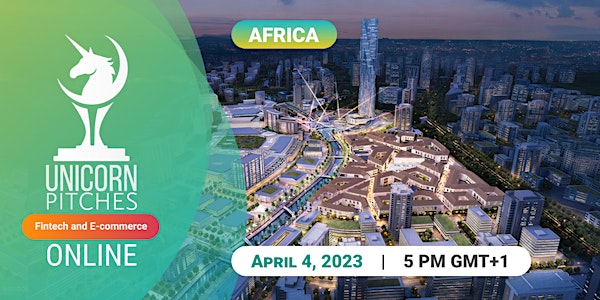 Unicorn Pitches African Fintech and E-commerce
Welcome to the online Unicorn Pitches African Fintech and E-commerce!
Date and time
Tuesday, April 4 · 9 - 11am PDT
About this event
Get ready to showcase your extraordinary startup to world-renowned venture capitalists and business angels!
Welcome to Unicorn Pitches African Fintech and E-commerce, a part of the World's Largest Startup Pitch Contest powered by Network VC.
This event is organized by Eisen Intelligent Solutions, in partnership with Network VC.
Whether you are an Investor looking for future Unicorns, a Corporation looking for a solution, or an African Fintech and E-commerce Startup with outstanding traction and/or promise outlook seeking funds to make our world a better place – JOIN UNICORN PITCHES!
We welcome startups at any stage, but those with traction and paying customers will be given special consideration. Anyway, having a Fintech or E-commerce component is a must.
In Unicorn Pitches, the opportunities are priceless:
Present your startup to the most prominent investors and industry leaders
Interact online with VC funds, angel investors, and private equity investors
Improve your pitch by gaining practical advice from experienced VCs
Expand your network and let the world know who you are.
Moreover, the winning startup will receive five free growth and fundraising strategy mentoring sessions with Dr. Leon Eisen (https://www.linkedin.com/in/leoneisen/), a value of $5,000, and will have the opportunity to participate in his podcast, which will be promoted across various social media platforms and investors.
Don't miss out on this once-in-a-lifetime opportunity to take your startup to new heights!
For startups to apply – click 'Pitch' button at the top of the page and fill in all the required fields.
Event page: https://unicorn.events/460553/
If you have any questions during the registration, please use the guideline – https://bit.ly/3AREi8Y
To join us as a guest, please, register at the Eventbrite page.
Contact: mmi@startup.network |info@leoneisen.com
See you at the Unicorn Pitches-African Fintech and E-commerce.
About the organizer
  Unicorn.Events – is the largest global pitch competition for exponential startups that have the potential to become Unicorns.
Startups pitch LIVE to top-VCs, Corp and famous business angels that comprise a Jury that evaluates an investment potential of each startup and give their feedback and advice. Startups directly interact with all the investors during the event!
We make our investors happy! More than USD 345m were fundraised by the startups that showcased themselves at our events.
Participation is absolutely free. Apply to the relevant event depending on your geographical location and your solution
There are 3 types of events:
Unicorn Pitches – online and offline pitch events we do together with our official partners for local startups and local investors. Winners of Unicorn Pitches pitch at Unicorn Battles without prior screening.
Unicorn Battles – online pitch events for international startups form a certain continent (or group of countries) where VCs, Corporations and business angels that invest in this geography evaluate investment potential of startups. Winners pitch at Unicorn CUP.
Unicorn CUP – World Finals – gala-pitch event of each season. To participate you have to win the Unicorn Battle. Only TOP VCs and famous investors participate as Judges.
You can see all our previous events at our YouTube channel
Subscribe not to miss out any future Unicorn!!!