UNI MLK Day of Service 2015

Monday, January 19, 2015 from 9:00 AM to 1:00 PM (CST)
Event Details
MLK Day of Service - January 19, 2015

The 2015 UNI MLK Day of Service will feature a variety of events throughout the Cedar Valley and Waterloo. More details to come!!!
Program Agenda:
Location: Maucker Union, UNI
Check-in: 9:00 a.m. - 9:30 a.m.
Breakfast: 9:00 a.m. - 9:30 a.m.
Opening Program: 9:30 a.m. - 9:45 a.m.
Service Events: 10:00 a.m. - 12:00 p.m.
Northeast Iowa Food Bank:
Volunteers will be assisting with packing for the backpack program, stocking shelves, and sorting donations.
Catholic Worker House:
Volunteers will be assisting with basic upkeep of the home including some deep cleaning and painting to provide a fresh look for the new year!
Country View Care Facility:
Play games and assist with activities alongside the residents of the care facility.
Volunteer Center of Cedar Valley:
Assist at stations at a family-friendly MLK Day of Service event. Volunteers will be leading crafts, service projects, and other activities with youth and their parents.
Grout Museum District:
It's cleaning day at the Grout! Volunteers will be assisting with sprucing up the Museum School activity room for the beginning of the new year!
Green Iowa Americorp:
Weatherization project 
Center for Energy and  Enviornmental Education (CEEE):
Help prepare educational kits for students/teachers across Iowa as part of the Fabulous Resources for Energy Education loan program.  
*Each volunteer can only volunteer for one event*
Return to Maucker Union: 12:30 p.m - 1:00 p.m
This event is a partnership between: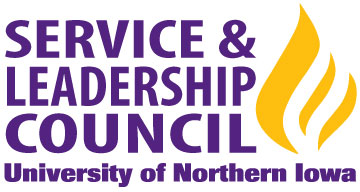 When & Where

The Coffee House in the Maucker Union
063 Maucker Union
Cedar Falls, IA 50614


Monday, January 19, 2015 from 9:00 AM to 1:00 PM (CST)
Add to my calendar
Organizer
Service & Leadership Council
Service & Leadership Council is supported by the UNI Office of Student Life. We provide students with opportunities to serve the community and gain leadership skills.
Our programs include: Volunteer Tuesdays, Stop & Serve, Days of Service, National Volunteer Week, and Leadership Development Programs.
Contact Us!
UNI Office of Student Life (top floor of Maucker Union)
UNI MLK Day of Service 2015