UNHOLY ROLLERS : J. Southern Studio Pop Up Shop + Roller Skating + Goth and Industrial Jams + Costume Contest... and more!
About this event
J. Southern Studio presents ...
UNHOLY ROLLERS... a Gothic Halloween Roller Skate Costume Party!
🖤 In collaboration with L.A. Skate Hunnies and Das Bunker 🖤
Join us for a ghoulish evening of rollerskating, shopping and a good time! All skate levels welcome! Spooky vibes only 💀🦇👻🕷
✞ $15 skate ticket ($12 early bird skate ticket SOLD OUT)
✞ Hang out + Shop: FREE!
✞ Pop Up shops from: J. Southern Studio , Wicked Skate Wear, Spirited Animals, Gimme Danger Vintage, and more!
✞ Skate Rentals from Skate Tribe!
✞ Delicious food from East Los Musubi and Slo' Mo Kitchen!
✞ Free tarot readings by The Mirrored Lantern!
✞ DJ M Flores playing all the goth + industrial + EBM + new wave jams!
✞ La Femme Pendu signing vinyl copies of Absolute Horror and limited edition posters to celebrate the release of the new album, VAMPYR.
✞ LA Skate Hunnies costume contest + raffle
✞ Roaming photos by Jonathan Labez!
✞ Free to shop, party, and chill in the park!
✞ Free parking!
✞ Plus more to be announced!
~ Visit our Facebook Event Page! ~
Sunday October 24, 2021
5pm - 8pm
LA Kings Burbank Sports Center @ Ralph Foy Park
3211 W Victory Blvd.
Burbank, CA 91505
FREE parking at Ralph Foy Park/street parking
This is a 100% outdoor event!
Follow @JSouthernStudio and @Rogue.Rollers on Instagram for more info and updates!
~FAQ~
Will there be rental skates?
* Yes! We will have a limited selection of roller skates and sizes. Rental skates will be an additional cost at the event.
What are the event's COVID precautions/ rules?
*Masks are encouraged, but not required. Please stay a safe social distance from folx not in your household. Mask/Safety rules subject to change, depending on most current local gathering and/or mask mandates.
Is Unholy Rollers a good and safe event for kids?
* As of now the skate session is all ages. However, we aren't sure re: safety as this is our first event! It really depends the turn out and how many people are on the rink at any given time. The rink is located in a big park, so feel free to bring the family for a picnic! :)
Can I bring alcohol to this event?
*No. This is an alcohol free event.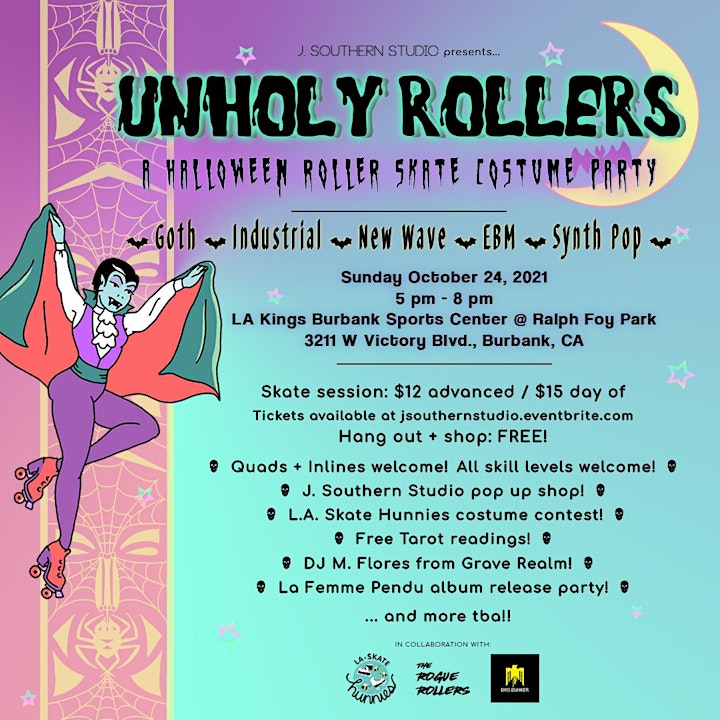 Organizer of Unholy Rollers
J. Southern Studio
Launched in 2010, J. Southern Studio is a woman owned and operated, Los Angeles based design house that creates specialized adornment, home, and wellness objects intended to help connect, manifest, and align with the energies around us.

We believe that through ceremony and ritual, we can celebrate our ancient past, awaken our curiosities, and reconnect us to the Earth. Our hadnmade offerings are inspired by crystal healing philosophies, candle magick practices, traditional herbal smoke rituals, and the use of aromatherapy and essential oils. Each Ritual Kit, Candle, Oil, and Mist are made to encourage manifestation and grounding through meditation.
Rogue Rollers
Rollerskating + Counterculture! Follow for more skate & DIY events, and more! ALL Skate levels welcome!