Sales Have Ended
Registrations are closed
Our lottery is now closed BUT you can still get on our wait list! We will be hosting a 2nd round lottery on Wed, June 14 for any unclaimed spots by our first round winners.
Sales Have Ended
Registrations are closed
Our lottery is now closed BUT you can still get on our wait list! We will be hosting a 2nd round lottery on Wed, June 14 for any unclaimed spots by our first round winners.
Description
Are you ready for the most epic weekend of your adult life?
Good. Us, too. Welcome to our Unglued 2017 Summer Camp Lottery for camp registration!
We are making camp registration possible this year through a lottery system. All registrants will be entering for the chance to buy a ticket to Unglued Labor Day Summer Camp for adults. If you win the lottery you will have the chance to purchase tickets for Camp! Simple, right? Read on for details - you can also snag full camp details on our Camp Page.
The Lottery opens Monday, June 5, 2017 at 8am and will remain open through Wednesday, June 7 at 8pm CST.
Camp is $300 per camper and includes everything from food by Molly Yeh(!), drinks from fancy pants coffee to delish cocktails, workshop instruction and supplies, lodging, camp swag, dance party, camp battle, and more.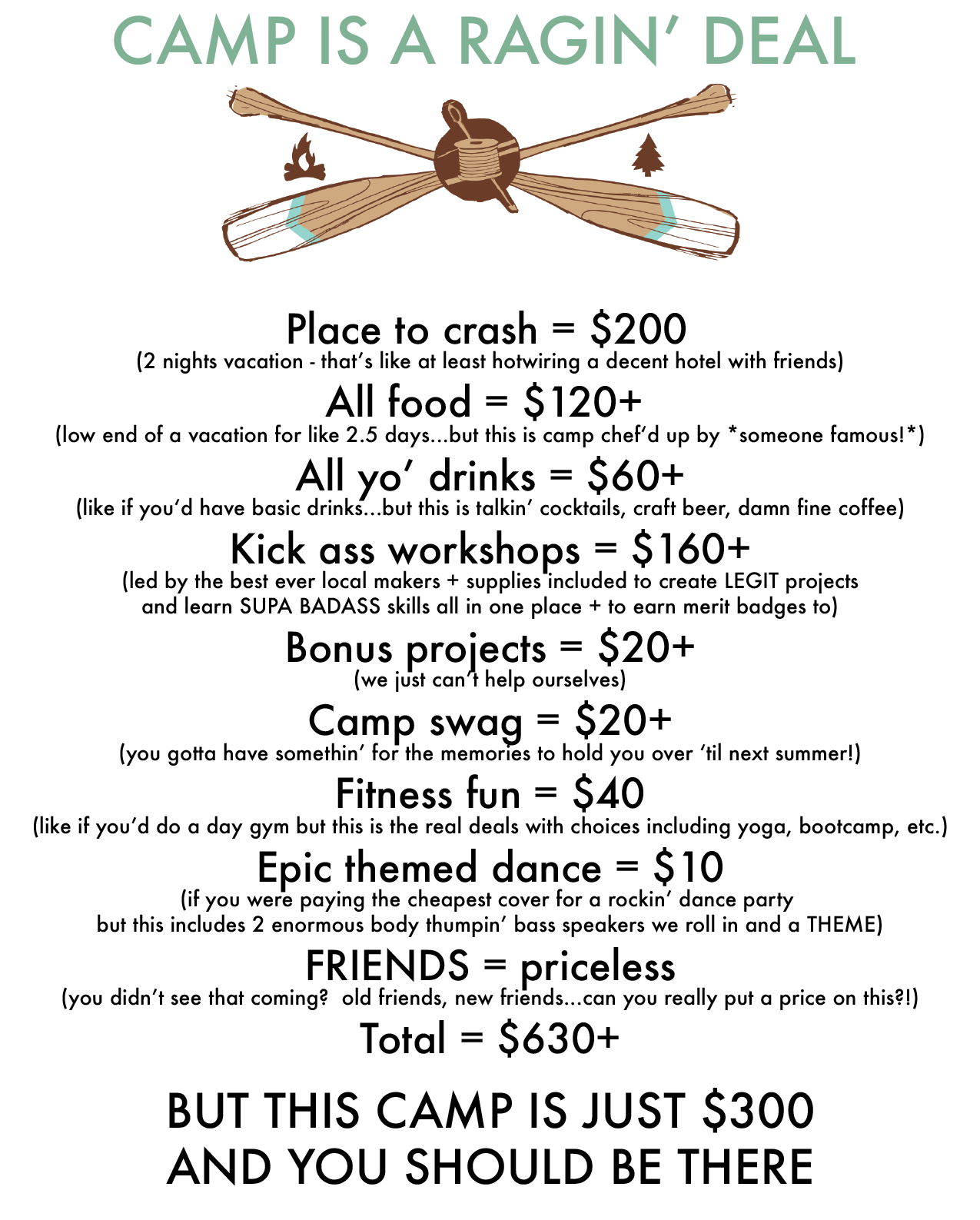 Enter the Lottery by registering for a free ticket. The name and email used to enter the lottery must match the information that would be used for the full registration if you win the lottery. Individuals registering multiple times will be disqualified so be sure to enter only once. See below for Group Lottery Tickets because yes, that's a thing!
Group Lottery Tickets - Only wanna come to camp if your squad can? You can register for up to 4 Lottery Tickets to indicate you only want to come to camp if your friend or squad gets in. Registering for Group Lottery Tickets does not increase or decrease your chances of getting in. You will need to carefully enter their full email and birth date (they need to be over 21!) upon registering.
First round lottery will be drawn on Thursday, June 8 and winners will receive individual Paypal invoices to fully complete and pay for their camp spot! For group lottery winners each individual will receive a Paypal invoice to their separate email address that were entered during the lottery registration.
There's a 2nd round lottery!! Any spots not claimed by our first round lottery winners will be opened up to a 2nd lottery on Wednesday, June 14. The previous lottery registrants who did not "win" will be put in this lottery along with anyone signed up for our wait list by Tuesday, June 13.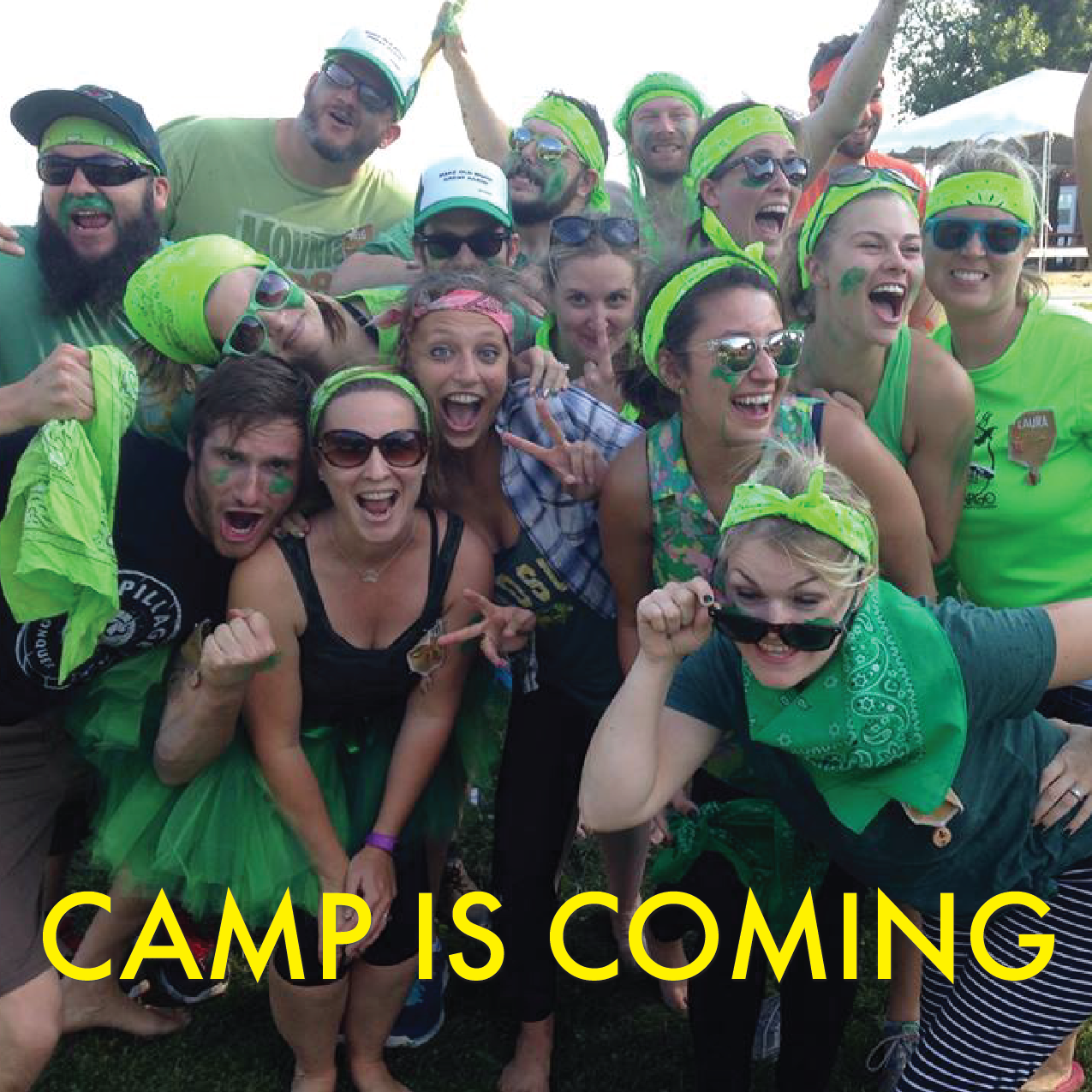 We want you to be fully aware of all things Camp so before registering please read our FAQ's below:
FAQ's (same as you'll find on our Camp Website)
Should I come the whole weekend?
YES! Camp is meant to be enjoyed to the fullest! Also camp is non-refundable after July 1 (but is transferrable) so go ahead and stop being afraid of commitment
I want to have a cabin with a friend!
Totes – we do want you to meet new faces (#goalz), but in a follow up questionnaire closer to camp we can almost for sure make that happen with at least 1-2 of your squad. Guys and girls are going to have separate cabins. We thought/know it'd be too awkward to bunk married couples and other couples together. So go sneak away if you need or skinny dip or something.
So is this just for the ladies?
Ummm hells no! This is a badass SUMMER CAMP not a scrapbooking retreat! We've enlisted guys with beards and guys without beards to help us plan this to be for ALL THE PEOPLE! (the quote "The workshops were legit as f*ck" came from a dude so believe it – the dude abides).
Who's coming then?
I believe YOU ARE, but anyone who needs a carefree, campy weekend! This is NOT just for "creative people," network-y people, or bloggers, etc etc. This is crafted up to be the weekend that you've needed for a long time. If you are 21+, of course.
I'm older than *insert age you are assuming*...will I love it?
Our average camper age range is 23-37 - some tish younger and a good amount still above this range. You could say camp caters to people in their 20's and 30's as those who are planning it fall in that range (hiiii! I'm Ashley and I turn 35 this year). If you are a badass who wants to get away from the 9-5 for a few days, dance super hard, get bruises going down a flat slip and slide, make really cool shit with local makers, and try your damndest to earn merit badges then you need to be there. You need to be there even if you are an introvert and live in Vermont and haven't held a glue gun in 20 years.
How do the workshop choices work?
We love organizing this kind of fun so bae, it'll all work out. There'll be somewhere around 5-9 workshops offered each Workshop Session and have a max sign up based on supplies and instructoin. We are only choosing awesome workshops, though, so you'll be good. Some choices will also include things like campy skills or canoe classes, too. You'll earn a merit badge for any you complete so you'll definitely leave with a new skill + project(s) to enjoy at home. PLUS we'll have a Workshop Swap area during Camp for any extra seats that can be added to workshops or for you to swap one out to go sunbathe instead or change up your adventures.
Merit badges, yes?
For shizzle my nizzle. Now you can totally make this weekend what you want, but if you take time to earn 5 merit badges (to include things like "Fitness," Workshops, Friendship, Wild Cards, and more) you'll leave with a snazzy take-home award kind of thing that is SO WORTH IT. We quote-i-cized "fitness" so you don't think we are going to kick your ass. We'll have a few options each morning that could be epic or just really relaxed.
I'm generally a whiney, complainy, unhappy kind of person.
Well then, you are actually the only kind of person that shouldn't come to camp! Truth be told if you can't handle an occasional change in plans, weather delays, or love being all judgey-McGee about people or choices you should go to the lake cabin instead. Unless if you swear to whiney silence and use the weekend to have the time of your life. The bathrooms are truly campy, the beds should not be for anyone over 12-years-old, and there is a hill up to get to your cabin that will try to drop-kick you post-dance night. If you'll drop the 'tude and dance on speakers with me we'll be best friends.
I came last year and somehow am questioning if I should come again?
Oh hi past camper! Well yes, hells yes, you should come back! Yes, some things will remain like our schedule that continues to be spot on to kick ass. Some of the super campy or hottest workshops will be back, too. Overall, though, you'll have a brand spankin' new collection of workshops to take, new Friday night campfire fun, new camp cocktail, etc etc.
"That food….DAMN. I almost cried when I saw homemade donuts." - 2016 camper
Alcohol, really?
Why yes! This Camp is only for 21+ so it doesn't get all weird. You'll have other beverage options, though, if you don't want to consume the things. There are portions of the day that drinky drinks are available to you by our kick ass servers such as mimosas for breakfast, beers for lunch, cocktail happy hour, dance bar, and more. You'll get to enjoy plenty if you'd like and it's all included! No drugs. That's lame. We all get in trouble and camp ends which means #yousuck.
ALCOHOL REALLY!
Yes, but also note the bar closes down around 11pm each night so you don't go drunk canoeing in the pitch black during a lightning storm. There are also times of day that alcohol is not served so you don't use a mini blow torch during your Workshop Session 2 to prank someone and burn down the rec hall.
Why Labor Day?! I'm already busy!
We totally get it! But this was the only weekend available for this kind of epic event here so we rolled with it and think you should, too (plus we get to stay a tish longer on Sunday!). Do consider you'll be done by 2pm on Sunday to go do all the family things Labor Day may require Sunday afternoon/Monday! Or sleep because you haven't been to camp since you were 13 and just slept in a small bunk bed for 2 nights.

"The attitude was easily the most welcoming and positive I have ever encountered and the pace was just right. We were busy but never rushed, never pushed, and always entertained." - 2016 camper
How much??
Ok, first consider this is ALL INCLUSIVE! But you don't have to fly to Mexico to get the deals and worry about the water. We'll bet our rescue dog we love to pieces that you've spent quite a bit more on a weekend where you don't get nearly as much swag, projects, cocktails, project instruction, and freaking memories you'll never forget.
Registration = $300/camper
$300?! I listen to Dave Ramsey and I'm not so sure about this!
We love us some Dave Ramsey! We've actually named his alter ego Rave Damsey. We do think, though, that both Dave and Rave would approve of treating yourself to this wonderful helluva weekend! We are basically making this happen at cost for you with room for incidentals (as we learned we need to after last year when water trampolines blow away srsly) so this is the best bargain we could figure out for all the things included!
Now you may not know Justin and I, but we do everything we can to keep this as cheap as humanly possible and making it the best experience you can wrap your mind around. We are in this to make your life KICK ALL THE ASS.
"This camp help me realize my true potential as a human being...I have never felt 'creative' but I feel so ALIVE being around so many other kinds of individuals who are just here to make you feel like you belong. You make me feel like an artist. You have made this something I will never forget." - 2016 camper
What do I need to bring?
You'll get a campy packing list before you head to Camp and it'll include some pretty normal camp things like bedding, swimsuit, bug spray, etc.
I have more questions! And I need answers!
Since Ashley sucks at html we'd love for you to just go ahead and email us at ungluedcraftfest@gmail.com and we'll get you those answers.
"There were several times that I asked myself, "What the f*ck am I doing?" (ex. Running through the dark camp in a shark costume in the pouring rain.) But it all added to the adventure." - 2015 Camper