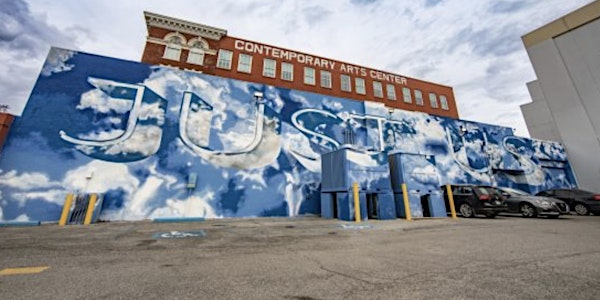 Unframed, a conversation with artist Sanford Biggers
Unframed, a conversation with artist Sanford Biggers presented by The Helis Foundation and Arts New Orleans
By Arts Council New Orleans
When and where
Date and time
Thursday, January 20, 2022 · 11am - 12pm CST
Location
Contemporary Arts Center, New Orleans 900 Camp Street New Orleans, LA 70130
About this event
Following the unveiling of the newest Unframed mural, "Just Us" by Sanford Biggers join us for a conversation with artist along with Andrea Andersson, Rivers Institute Founding Director and Chief Curator and Dr. Kara Olidge, Amistad Research Center Executive Director. The talk will discuss Sanford's past and current collaborations and the use of material history in contemporary practive.
The Unframed artist conversation will tske place in the CAC Theatre.
Seating is extremely limited and will be available via RSVP only on a first come, first serve basis. Proof of vaccination will be required for entry along with a confirmed RSVP. Masks will be required of all attendees.
About Sanford Biggers
Sanford Biggers (b. 1970) was raised in Los Angeles and currently lives and works in New York City. He is the recipient of numerous awards. Most recently, he was appointed the 2021-2022 Dr. Martin Luther King, Jr. Visiting Professor and Scholar in the MIT Department of Architecture. In February 2021, he received Savannah College of Art & Design's deFINE Art Award; in 2020, he was awarded a prestigious Guggenheim Fellowship and appointed Board President at Sculpture Center; in 2019, he was inducted into the New York Foundation for the Arts Hall of Fame; in 2018, he received the American Academy of Arts and Letters Award. In 2017, he was presented the 2017 Rome Prize in Visual Arts.
His traveling museum solo exhibition entitled Codeswitch opened at The Bronx Museum of the Arts from September 9, 2021, to April 5, 2021. This exhibition is a survey of over 50 quilt-based artworks and is currently on view at The California African American Museum, Los Angeles, CA (July 28, 2021 – January 23, 2022). Codeswitch will travel from Los Angeles to Louisville, KY, to open at The Speed Art Museum on March 18, 2022. On May 5, 2021, he debuted Oracle, a monumental bronze Chimera sculpture, along with a multimedia public art exhibition throughout Rockefeller Center presented by Art Production Fund and Rockefeller Center in partnership with Marianne Boesky Gallery. He has had solo exhibitions at the Contemporary Art Museum St. Louis (2018), the Museum of Contemporary Art Detroit (2016), the Massachusetts Museum of Contemporary Art (2012), and the Brooklyn Museum (2011), among others. His work has been shown in several institutional group exhibitions, including at the Menil Collection (2008) and the Tate Modern (2007) and recent exhibitions at the Metropolitan Museum of Art (2017) and the Barnes Foundation (2017). Biggers' work is held in the permanent collections of the Museum of Modern Art, New York; the Metropolitan Museum of Art, New York; the Whitney Museum of American Art, New York; the Museum of Contemporary Art, Chicago; the Walker Center, Minneapolis; the National Museum of African American History and Culture, Washington D.C.; the Dallas Museum of Art, Dallas; and the Legacy Museum, Montgomery, among others