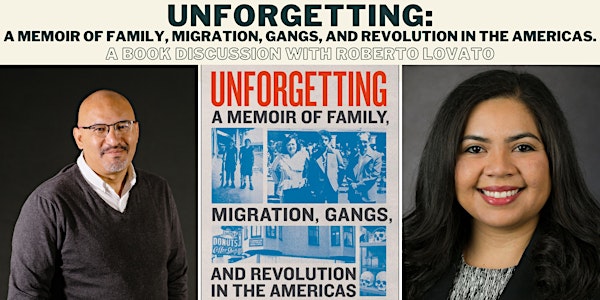 Unforgetting: A Book Discussion with Roberto Lovato
Roberto Lovato presents his new book, "Unforgetting: A Memoir of Family, Migration, Gangs, and Revolution in the Americas."
About this event
Renowned journalist and activist Roberto Lovato will discuss his new book with DePaul professor Ester Trujillo (Latin American and Latino Studies). Unforgetting is a memoir that excavates family history and reveals the intimate stories beneath headlines about gang violence and mass Central American migration, one of the most important, yet least-understood humanitarian crises of our time—and one in which the perspectives of Central Americans in the United States have been silenced and forgotten
Roberto Lovato is an educator, journalist and writer based at The Writers Grotto in San Francisco, California, and a Co-Founder of #DignidadLiteraria, the movement advocating for equity and literary justice. A recipient of a reporting grant from the Pulitzer Center, Lovato has reported on numerous issues — violence, terrorism, the drug war and the refugee crisis—from Mexico, Venezuela, El Salvador, Dominican Republic, Haiti, France and the U.S., among other countries.
Dr. Ester Trujillo, our moderator for this event, is an Assistant Professor in the department of Latin American and Latino Studies at DePaul University. She is an interdisciplinary scholar of Central American Studies and Chicana and Chicano Studies. Her areas of research and teaching include ethnic boundary-making, ethno-racial identity formation, intergenerational historical memory, and Central American immigrant integration.
Hosted by the Department of Latin American and Latino Studies. Co-sponsored by the Center for Latino Research, the Center for Religion, Culture, and Community, the Spanish Program, and the Department of Women's and Gender Studies at DePaul University.