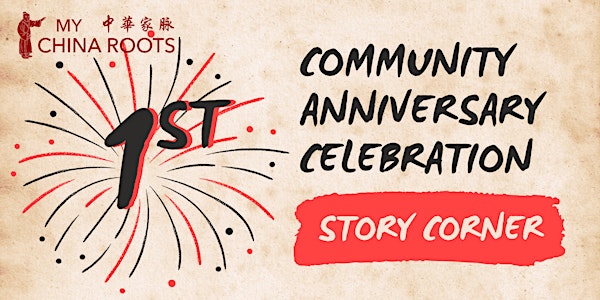 Unforgettable Roots: Stories of Search and Discovery
Gather with family historians across the Chinese diaspora for a warm celebration of our full-circle journeys to explore our ancestral roots.
About this event
My China Roots (MCR) is celebrating our 1st Community Anniversary with a festive weekend of live storytelling and research support (August 19-22). You're invited!
The party kicks off with a facilitated "Story Corner" on Zoom, where you'll have the opportunity to:
Reflect on your journey of exploring your family history or cultural identity
Gain inspiration from the stories of fellow detectives around the world
Connect with supportive allies and resources in your search
Over the past year, the My China Roots community has brought together over 1,200 detectives helping each other trace our family stories on Discord. We can't wait to reflect on this season with you and share the surprising gems that've come to light!
The anniversary event will be held on Zoom. Once you register on Eventbrite, you will receive the Zoom meeting link via email.
Video camera is encouraged but not required. This event will NOT be recorded!
The floor will be open to listen and share in response to questions like:
What is a breakthrough or discovery you're proud of? Who helped you?
What is a challenge ("brick wall") you're facing?
What support are you looking for this season?
Feel free to bring photos or artifacts to accompany your sharing ("show and tell" style!).