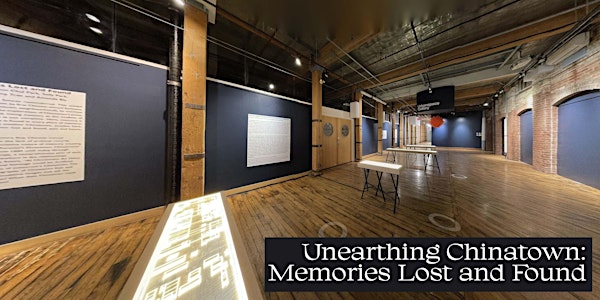 Unearthing Chinatown: Memories Lost and Found – Exhibition Closing Talk
A designer talk for the closing of the "Unearthing Chinatown" Exhibition
When and where
Location
Urbanspace Gallery 401 Richmond Street West Ground Floor Toronto, ON M5V 3A8 Canada
About this event
UNEARTHING CHINATOWN: MEMORIES LOST AND FOUND
Join us for a designer talk to learn more about the "Unearthing Chinatown" exhibition and about Toronto's Chinatowns!
"Unearthing Chinatown" is a search for time past and futures remembered. This exhibit unearths the layers of Toronto's downtown Chinatowns from its first Chinese-owned business, to the urban evolutions of Toronto's four downtown Chinatown neighbourhoods, to machine learning AI imagined futures. Visitors are invited to join in the exploration of Chinatown's pasts, presents, and futures, unearthing memories lost and found. Using memory as the medium of past experience, visitors will discover that, here, the past is not complete. Here, memory is open and history is dynamic, ever-shifting. Here, the future is found in every place of memory. And, here, every memory constructs a new place, unearths another Chinatown, an other here, another now. Join us in our search of Chinatown's memories: lost and found, past and future, in every place of memory shared and lived.
DATE AND TIME
Saturday, April 30 | 5-7pm
COST
Free
ARTISTS AND DESIGNERS
Linda Zhang, Amy Yan, Jenna Buchwitz, Jae Seo, Soon Chul Park, Sally Park and Duyen Nguyen with support from technologists Jimmy Tran, X University Library Collaboratory
LOCATION
This event will be held at Urbanspace Gallery at 401 Richmond.
COVID-19 PROTOCOL
Public health measures will be followed. Space is limited and proper social distancing is encouraged. Wearing masks is required while in the gallery. Proof of vaccination is not required to enter the space.
ABOUT URBANSPACE GALLERY
The Urbanspace Gallery was created to explore the city. A venue for diverse exhibitions and events, the gallery investigates how cities work, how we might improve them, and how we can learn from the past to create visions of the future.
Urbanspace Gallery is located on the ground floor of 401 Richmond Street West, Toronto, beside Trinity Square Video. The building is open to the public Tuesday to Saturday, 12:00 – 6:00PM.