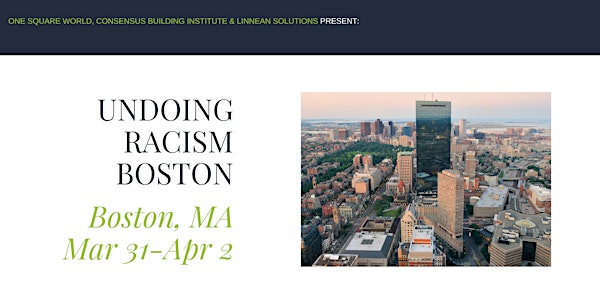 Undoing Racism Workshop / Taller "Desarraigando las Raíces el Racismo" Marc...
Location
Rafael Hernández School
61 School Street
Boston, MA 02119
Description
Please join us for a two and a half day Undoing Racism® training for the communities of Boston. Through dialogue, reflection, role-playing, strategic planning and presentations, this intensive process challenges participants to analyze the structures of power and privilege that hinder social equity and prepares them to be effective organizers for justice.
The workshop runs from 6PM to 8:30PM on Friday, March 31 and 8:30AM to 5PM both Saturday and Sunday April 1 and 2. Full participation on both days is required.
Limited free tickets are available for people of color in the Greater Boston area. Contact andrea@onesquareworld.org to request a free ticket. To support this fund donate at: http://www.onesquareworld.org/donate.html.
Workshop participants will:
Develop a common definition of racism and an understanding of its different forms: individual, institutional, linguistic, and cultural;
Develop a common language and analysis for examining racism in the United States;
Understand one's own connection to institutional racism and its impact on his/her work;
Understand why people are poor and the role of institutions in exacerbating institutional racism, particularly for people and communities of color;
Understand the historical context for how racial classifications in the United States came to be and how and why they are maintained;
Understand the historical context for how U.S. institutions came to be and who they have been designed to serve;
Understand how all of us, including white people, are adversely impacted by racism every day, everywhere;
Address surface assumptions about how your work is (or is not) affected by racism;
Develop awareness and understanding about ways to begin Undoing Racism;
Gain knowledge about how to be more effective in the work you do with your constituencies, your organizations, your communities, your families;
Understand the role of community organizing and building effective multiracial coalitions as a means for Undoing Racism.
Childcare, accommodations for people with disabilities, and interpretation/translation, will be provided.
Por favor, participe con nosotros de un taller de dos días - Desarraigando las Raíces del Racismo - para las comunidades de Boston. A través del diálogo, la reflexión, juego de roles, planificación estratégica y presentaciones, este proceso intensivo desafía a los participantes a que analicen las estructuras de poder y privilegio que dificultan la equidad social y prepara a los participantes para ser organizadores eficaces para la justicia.


El taller comienza el dia 31 de marzo de las 18:00 - 20:30, todo el dia el 1 y 2 de abril de 8:30 a 17:00. Su participación completa todos los dias es necesario.
Los participantes podrán:
Desarrollar una definición común del racismo y un entendimiento de las formas diferentes en que se manifiesta: individual, institucional, lingüístico y cultural;

Desarrollar un lenguaje común y un método de análisis para examinar el racismo en los Estados Unidos;

Entender la conexión personal con el racismo institucional y cómo impacta su propio trabajo;

Entender por qué la gente es pobre y examinar el rol de las instituciones en exacerbar el racismo institucional, en particular para las personas y las comunidades de color;

Comprender el contexto histórico de cómo se generaron las clasificaciones raciales en los Estados Unidos; y cómo y por qué se mantienen;

Comprender el contexto histórico de cómo las instituciones de los Estados Unidos se formaron y a quiénes han sido diseñadas para servir;

Comprender cómo todos nosotros, incluidos los blancos, somos impactados negativamente por el racismo todos los días, en todas partes;

Contemplar suposiciones superficiales acerca de cómo su trabajo es (o no es) afectado por el racismo;

Concientizar y promover una mejor comprensión sobre formas efectivas para comenzar a desarraigar las raíces del racismo

Adquirir conocimientos acerca de cómo ser más eficiente en el trabajo que hace con sus constituyentes, sus organizaciones, sus comunidades, sus familias;

Comprender la importancia de organizarse como comunidad y construir coaliciones multi-raciales, como una forma efectiva para desarraigar las raíces del racismo;
Se proporcionará cuidado para niños, facilidades para personas con discapacidades, e interpretación / traducción.