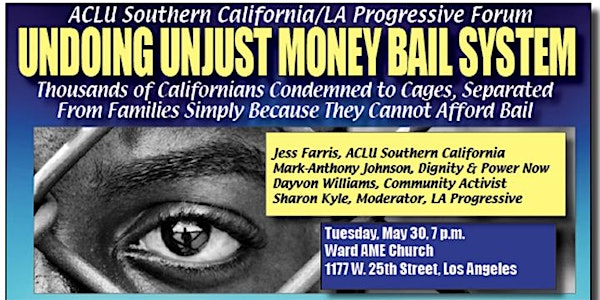 Undoing Our Unjust Money Bail System
When and where
Location
Ward AME Church 1177 West 25th Street Los Angeles, CA 90007
Description
Undoing Our Unjust Money Bail System
Many Thousands of Californians Condemned to Cages, Separated From Families Simply Because They Cannot Afford to Pay Bail
What: ACLU Southern California/LA Progressive Forum
Where: Ward AME Church, 1177 W. 25th Street, Los Angeles
When: Tuesday, May 30th, 7 to 9 p.m.
Jess Farris, Policy and Advocacy Counsel at the ACLU of Southern California, with experience working to prevent and correct wrongful convictions.


Mark-Anthony Johnson, Director of Health and Wellness at Dignity and Power Now and an organizer with the Coalition to End Sheriff Violence in L.A. Jails.


Dayvon Williams, Community Activist, directly affected by money bail system.


Sharon Kyle, JD,

Moderator, LA Progressive Publisher and Adjunct Professor of Law at People's College of Law.
In California, on any given day, roughly 63% of people locked up in jail (around 46,000 people) are being held before they've even been tried or sentenced. Why? Because many of them simply cannot afford to post bail.
As a result of not having the money to get out of jail, folks more readily decide to accept plea bargains as a means of getting out of jail to continue paying rent or taking care of their children. They're much more likely to be sentenced and to receive longer sentences. And there's an incredibly strong correlation between pretrial detention and increased long-term recidivism.
Right now folks have two options to get out of jail after being charged without taking a plea:
cash bail, where they pay the entire face amount of bail demanded or

contracting with a bail agent who will posts a bond after they pay a nonrefundable 10% of the total bail amount up front.
That means that if bail is set at $50,000, they have to pay a bail agent a nonrefundable $5,000 and even if they comply with every court date or are found innocent or were wrongfully arrested, they will never see that money again. There are countless bail-related stories in LA County of lost jobs, lost homes, missed school, and whole families suffering as they take on long-term debt to purchase freedom and to purchase safety for a loved one.
Please join us to learn more about current bail practices and the work advocates are doing in LA County and statewide to change it.
The event is free and open to the public. For more info, contact organizers, Jess Farris, Dick Price & Sharon Kyle, jfarris@aclusocal.org, dick_and_sharon@laprogressive.com or 213.434.4643.
Cosponsors: Anti-Recidivism Coalition • Bend the Arc •
Black Lives Matter-Los Angeles •

Clergy & Laity United for Economic Justice • CURB • Ella Baker Center • I

nterfaith Movment for Human Integrity • Justice Not Jails • LA Progressive • Progressive Christians Uniting • Ward AME Church • Youth Justice Coalition