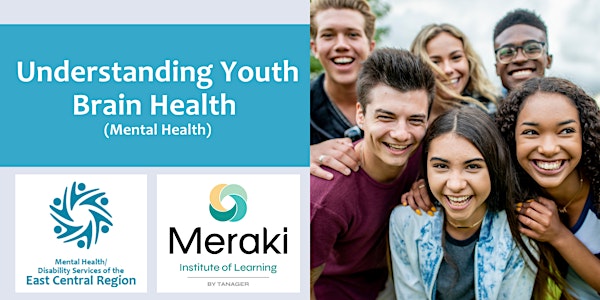 Understanding Youth Brain (Mental) Health--FREE WEBINAR
Learn most common symptoms and diagnosis in youth, and the unique ways they present in youth.
By Meraki Institute of Learning at Tanager
Date and time
Thursday, March 30 · 10 - 11am PDT
About this event
Description:
Service providers working with youth quickly learn common brain(mental) health diagnosis don't always look the same between youth and adults.
This course provides participants with an understanding of the brain(mental) health concerns specific to youth. Participants will gain a working knowledge of brain(mental) health diagnostic categories including mood, anxiety, trauma, attachment, neurodevelopmental, and behavioral. Within each category, participants will learn which diagnosis are most common in youth, and what are the unique ways in which symptoms present in youth compared to adults which is the standard for DSM descriptors.
2 Ways to Attend this Event:
Live for Certificate of Attendance
This event will be offered as a LIVE WEBINAR, with live options for Q&A through the online platform ZOOM. At the start of the live webinar, participants will be asked to complete a sign-in form with their name and email address associated with their zoom account and for their certificate. Participants must fully attend the webinar and complete a post event sign out survey to receive their certificate.
On-Demand after Event
This event will be recorded and available on demand for anyone unable to attend the event live but not wanting to miss out on the valuable learning. All registered ticket holders will receive a post event email containing a link and directions for accessing the webinar on-demand for 30 days. Please note, a certificate of attendance will not be provided for on-demand participants.
About the presenter:
Robin Murphy is a licensed master's social worker and an outpatient supervisor in the Tanager Place Mental Wellbeing Clinic and one of Meraki's certified instructors for Youth Mental Health First Aid. Robin has experience in helping children grow, heal and communicate through play along with helping caregivers connect with their child through family play therapy. Robin is passionate about providing support and resources to children and families in need.
About the organizer
The Meraki Institute of Learning at Tanager Place strives to enhance the mental wellbeing and resilience of all! We do this by providing experiential learning events and published resources across four pillars of empowerment; Families, Communities, Educators & Professionals, and Organizational systems & Leaders.