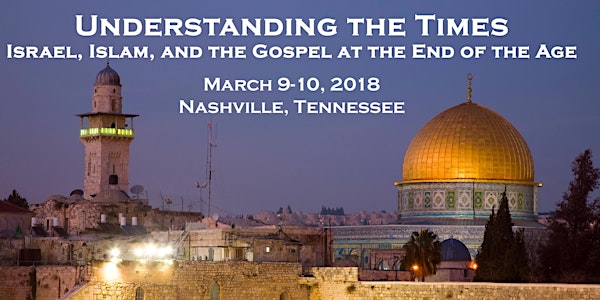 Understanding the Times Nashville: Israel, Islam, and the Gospel at the End of the Age
When and where
Location
The Barn at Sycamore Farms 4866 Murfreesboro Rd Arrington, TN 37014
Description
See more details, including the schedule, on our website.
---
Understanding the origins of the Arab/Israeli conflict from a biblical perspective is imperative for Christ-followers to understand the terror-filled times in which we live. Surprisingly, Muslims are coming to the Lord at astounding rates in the Middle East, but America's believers, in large part, are unaware.
Jesus is performing a mighty work in the hearts of oppressed and persecuted peoples, both Jew and Muslim, yet the church is sleeping through some of the most amazing news in history. TV reports would have us all believe that God is losing, the church is dying in the Middle East, and the prospect of turning hearts toward Jesus is hopeless in this region of the world. But the truth is quite to the contrary: The gospel not only survives in persecution, it THRIVES in persecution! Jews are waking up to the identity of their true Messiah. Muslims are seeking out Jesus in unprecedented numbers with miraculous stories to tell.
The "Understanding the Times" conference is a chance for the wider body of believers to come together across denominational lines to hear the good news of God's war against terror, listen to first-hand stories from the underground church in the Middle East, heed the warnings of deception in these latter days, and wake up from our slumber before Jesus establishes his kingdom in Jerusalem. God is so much bigger than we think. This conference is a celebration of God's ways and a call to live boldly, without fear, in these days before Jesus' return.
Speakers from Israel, the Middle East, Australia, and America will converge on Nashville for this two-day intensive conference. Featured speakers include Tom and JoAnn Doyle, Joel Richardson, Jake McCandless, Mark Dance, Eitan Bar, and Daniel Secomb. Music provided by Marty Goetz and Misha Goetz Hoyt.
Please join us as we all seek to understand the unprecedented times in which we live from a biblical perspective. See more details, including the schedule, on our website.