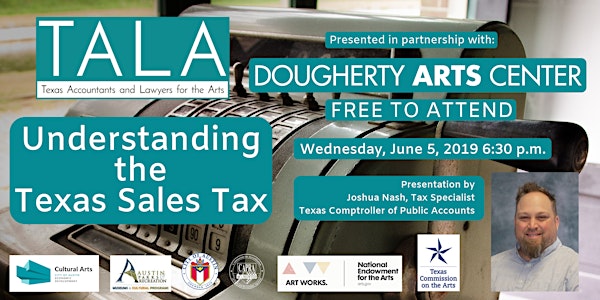 Understanding the Texas Sales Tax
By TALA: Texas Accountants and Lawyers For The Arts
When and where
Date and time
Wednesday, June 5, 2019 · 6:30 - 8:30pm CDT
Location
Dougherty Arts Center 1110 Barton Springs Road Austin, TX 78704
Description
Artists and musicians must remit sales tax payment on taxable sales.
If you need information about your liabilities under the sales tax in Texas or have questions about the tax as it relates to your current artistic business, join TALA and a representative from the Texas Comptroller to learn more.
This seminar will cover:
What is subject to the Texas sales tax?

How does the sales tax work?

How do I comply?

Exemptions to the sales tax

Resale certificates

and more!
Meet the speaker, Joshua Nash, Tax Specialist, Texas Comptroller of Public Accounts
Joshua is a Tax Specialist in the Tax Education and Public Engagement (TEPE) department of the Tax Policy division of the Comptroller's office. He has been with the agency for two years. He started as an analyst within the agency's Taxpayer Services call center, assisting taxpayers with their questions pertaining to the multiple taxes administered by the Comptroller.
Before he began his career in state government, Joshua spent fourteen years as a department manager for H.E.B. Grocery Co. His management and training experience provided him the opportunity to move into his current position as the Training Coordinator with the TEPE department.
Joshua continues to assist taxpayers by writing General Information Letters to the public; writing, editing, and reviewing tax publications; and conducting instructor led training for taxpayers, as well as employees within the agency.
Joshua is married to his lovely wife of seventeen years, Kara. They have two boys, Carter (9) and Samuel (16 months) and currently live in San Marcos, TX. In his free time, Joshua enjoys reading, songwriting, and writing short stories. However, more often than not, he spends his time navigating the trials and joys of raising a pre-adolescent and a toddler at the same time; all while trying to think of new, creative ways to take his wife out on a date. He hopes to one day accomplish these goals.
About the organizer
Texas Accountants and Lawyers for the Arts (TALA) was formed in 1979 to help meet the legal and accounting needs of artists and arts nonprofits across the State of Texas.
TALA's pro bono legal and accounting services are offered to artists from all creative disciplines, including visual artists, musicians, actors, dancers, film makers, and writers. Through a partnership with the US Patent and Trademark Office (USPTO), TALA's Patent Pro Bono program is designed to assist financially under-resourced independent inventors in Texas. With the goal of advancing invention based economic development, the program matches patent attorneys and agents with inventors to assist in filing for patents with the USPTO.
Services include lawyer and accountant pro bono assistance for artists, patent pro bono assistance for inventors, dispute resolution services, and educational programs for the artistic and business communities. Programs are designed to help participants apply sound business practices to protect intellectual property, advance careers, and develop income.