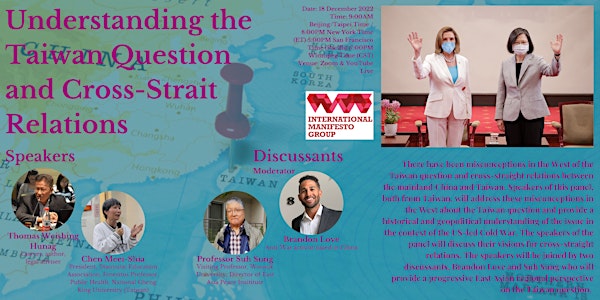 Understanding the Taiwan Question and Cross-Strait Relations
Panelists discuss the historical and geopolitical context of the Taiwan question in the context of the US-led New Cold War.
About this event
There have been misconceptions in the West of the Taiwan question and cross-strait relations between the mainland China and Taiwan. The new cold war led by the US against China has spurred mischaracterizations and leveraged the Taiwan question for the US geopolitical gains. Against the backdrop of the recent Russia-Ukraine war, some people erroneously compare Taiwan with Ukraine.
Speakers of this panel, both from Taiwan, will address these misconceptions in the West about the Taiwan question and provide a historical and geopolitical understanding of the issue in the context of the US-led Cold War. They will also share the experiences and perspectives of Taiwanese fishermen and discuss how the current movement for protecting Diaoyutai territory links people of the mainland and Taiwan across the Taiwan Strait. Finally, speakers of the panel will discuss their visions for cross-strait relations. The speakers will be joined by two discussants, Brandon Love and Suh Sung who will provide a progressive East Asian regional perspective on the Taiwan question.
Speakers:
Thomas Weishing Huang (黄维幸)was born and grew up in Taiwan. He obtained his B.A. in Law from National Taiwan University in Taipei and then J.D. magna cum laude, from Robert H. McKinney Law School of Indiana University and SJD from Harvard Law School in the United States. After practicing law as partners in the US for many years, he taught law and stayed in Taiwan for nearly ten years. He has been active in civic and pro bono activities and served as the Raporteur of the Court and petitioners' counsel in several cases before Taiwan's Constitutional Court. In 2003, he was selected by ABA and UNDP to Hanoi as a specialist advising Vietnamese Government on issues relating to its WTO admission for membership. Dr. Huang has authored books and articles on various subjects both in English and Chinese. He has been listed in Marquis Who's Who in American Law for many years and was voted by his peers as one of the "super-lawyers" for the years 2004 and 2005 in Massachusetts, USA. He recently drafted a petition for national referendum demanding a peace conference on behalf of a group of peace activists in Taiwan.
Chen Meei-Shia, emeritus professor of public health at National Cheng Kung University (Taiwan) and president of the Diaoyutai Education Association. She has been an academic activist since the 1970's after she was enlightened by and then involved in Protecting Diaoyutai Islands Movement.
Discussants
Prof. Suh Sung, formerly teaching human rights at Ritsumeikan University in Japan. Now visiting Professor at Woosuk University in South Korea and Director of East Asia Peace Institute.
Moderator - Brandon Love is an activist currently based in Shenzhen, China. Wherever he lives, he has always participated in class struggle, including labour organizing, tenants rights and international solidarity initiatives. Notably, the Foodsters United union drive in Toronto and the University of Waterloo BDS referendum to sever ties with Israeli academic institutions.