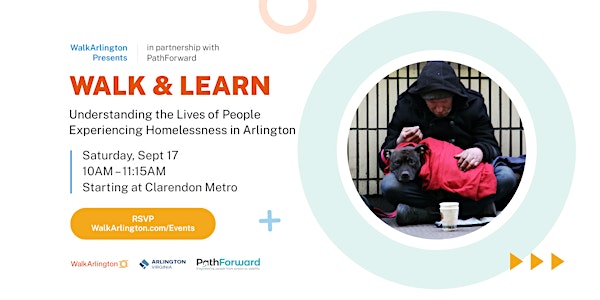 Understanding the Lives of People Experiencing Homelessness w. PathForward
Learn about PathForward, a local nonprofit dedicated to providing stability and housing solutions to people experiencing homelessness.
When and where
Location
Clarendon 3100 Wilson Boulevard Arlington, VA 22201
About this event
Join WalkArlington and PathForward for an opportunity to walk and learn about the lives of people experiencing homelessness in our community.
On this 1 1/4-hour walk of about .8 miles, PathForward staff members will share details of their organization's work to care for and ensure the dignity of unhoused people in Arlington by providing them with medical services, street outreach, meals, and support in finding permanent supportive housing and a path to stability.
They will also share their knowledge about some of the challenges people experiencing homelessness face in their daily lives--challenges many of us probably aren't aware of.
The walk will start at the Clarendon Metro. We will make our way toward the Homeless Services Center in the Courthouse neighborhood of Arlington, stopping at significant places in the neighborhood along the way.
Walkers should feel free to ask questions and participate in the experience.
Accessibility
People of all ages and abilities are welcome on all WalkArlington walks. This walk will take about 1 1/4 hours. We will walk approximately .8 miles, one way, stopping at four spots along the way for discussion and learning.
This map details our route.
Walk marshals, who will be wearing orange reflective vests, will be on hand to assist anyone needing help on the walk. You can approach them at any time during the walk for help or notify them beforehand if you will need their help.
If you need to leave before the walk is officially over for whatever reason, that's okay! We are happy to have you along for as much time as you can spend.
If you have questions about accessibility, or need to request a reasonable accommodation, such as a sign language interpreter, sighted guide or alternative formats of written materials not addressed here, please email info@walkarlington.com or call Mary Dallao at 703-597-7298 by September 9, 2022.