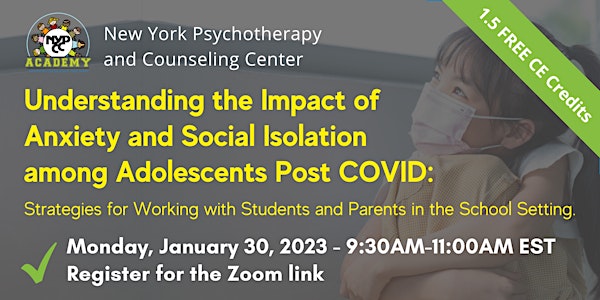 Understanding the Impact of Anxiety and Social Isolation among Adolescents
Understanding the Impact of Anxiety and Social Isolation among Adolescents Post COVID
About this event
Strategies for Working with Students and Parents in the School Setting.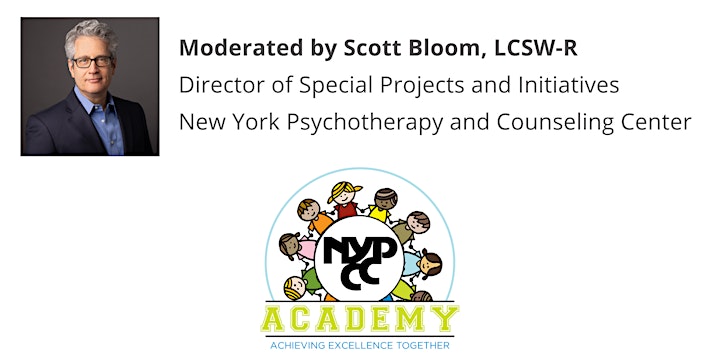 Scott Bloom, LCSW-R, is the Director of Special Projects and Initiatives for the New York Psychotherapy and Counseling Center. He has spent his 31-year career at the intersection of mental health, communities, and schools working to improve access to social-emotional services and resources by integrating these programs, and creating opportunities for children and youth to overcome emotional and behavioral barriers to academic achievement.
He was the founding Director of School Mental Health Services for the New York City Department of Education for the last 15 years, facilitating community partnerships and implementing mental health initiatives building on a city-wide system of mental health services and resources in over 1,800 city schools; enabling schools to better serve the needs of 1.2 million students and families. He serves on the advisory boards for multiple cities, state, and national mental health initiatives around the country. Mr. Bloom has contributed to journals, magazines, and books, and has presented at local and national conferences. Mr. Bloom has certification as a psychotherapist.

Dr. Caroline Clauss-Ehlers is an internationally known award-winning psychologist whose research, teaching, and writing have focused on supporting children, adolescents, and their families. Dr. Clauss-Ehlers is a licensed psychologist in New York and Pennsylvania and a professor at Long Island University, Brooklyn. She has written extensively on resilience, with her newest publication being Eating Together, Being Together: Recipes, Activities, and Advice from a Chef Dad and Psychologist Mom that talks about how preparing and sharing food can be a catalyst for communication and connection.
Training Reminders:
You are only eligible for the Continuing Education Credit if you are licensed in the State of New York.
To avoid connectivity issues, please ensure your electronic device is fully charged, the meeting application is downloaded onto the device, and that you are positioned in a location that has good internet service.
Arrive on time.
Stay for the duration of the training in order to receive CE credit for this training. Attendance will be taken.
Update your name in the participants' section to show your full first name and last name.
Cameras must be turned on for the entire training.
The training will be locked after 5 minutes.
Be present and avoid distractions (emails, phones, etc.)
Participate because we want to hear your input.
Complete the Evaluation form that is sent after the training. This must be completed in order to earn the Continuing Education certificate for applicable courses. You will have 10 minutes to complete the Evaluation at the end of the training.
Correspondence will be answered when the training is over.
New York Psychotherapy and Counseling Center is recognized by the New York State Education Department's State Board for Mental Health Practitioners as an approved provider of continuing education for licensed Creative Arts Therapists #CAT-0094, Licensed Marriage and Family Therapists #MFT-0098 and Licensed Mental Health Counselors #MHC-0225. New York Psychotherapy and Counseling Center is also recognized by the State Board for Social Work as an approved provider of continuing education for licensed Social Workers #SW-0662.