Christ calls ALL of us, in our respective vocations, to proclaim His truth. And that starts with understanding the human person.
About this event
What does it mean to be created as male and female persons? How can we be a 'gift' to others? What is the purpose of our sexuality? Where does the family fit in? What is the best way to speak with others about some of today's challenging moral issues?
When you register for this in-person weekend class, to be held July 9 and 10, 2021 in Woodstock, Georgia (near Marietta), you'll explore answers to these questions and more!
This in-person course, co-sponsored by Family Honor, Inc. and the Archdiocese of Atlanta's Office of Formation and Discipleship, is for adults who want to deepen their faith, grow their knowledge, and speak more confidently to friends and family members about:
• Pope St. John Paul II's Theology of the Body
• The Roots of the Sexual Revolution
• God's Gift of Sexuality and Fertility
• Consequences of Ungodly Sexual Behavior
• Child Development and the Importance of Family
• Gender Identity and Gender Confusion ... and more
You'll hear from a variety of interesting speakers and engage in classroom activities with other adult students. Plus, you'll also experience spiritual refreshment AND you can get continuing education credits from the Archdiocese!
Some scholarship assistance available - feel free to ask us about this if you need it. Preregistration required; no registrations accepted on site. Class size limited. We encourage you to sign up today - registration closes June 30! Note to those who register: we will be contacting you via email several times prior to class with important details, thus PLEASE provide a current email address when registering and check your junk folder regularly to make sure our email has not been sent there!
Schedule Overview:
>>> Class starts at 1:00 pm on Friday, July 9 and continues until 7:00 pm that night. Class resumes on Saturday morning, July 10, at 9:00 am and ends at 4:00 pm that afternoon.
>>> Family Honor provides supper on-site Friday evening and lunch on-site Saturday afternoon. (Meals included in your registration fee.)
>>> Students coming from out of town are responsible for making your own overnight accommodations.
IMPORTANT: We are happy to offer this class as an in-person course, but we'll take extra health/safety precautions that include:
• practicing 'social distancing' during class
• encouraging the use of hand sanitizer, which will be readily available
ALSO: if Family Honor needs to cancel class (prior to when it starts) for health and safety or other reasons, students will receive a refund in the amount they paid, minus the Eventbrite fee, which is non-refundable.
Questions? Call the Family Honor office at 803-929-0858 or email Family Honor at: info@familyhonor.org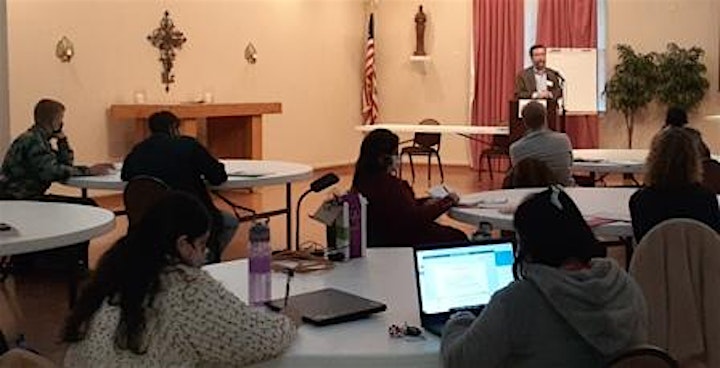 Family Honor, Inc., created in 1988, provides a Catholic framework on the truth and meaning of sexuality, love, and family. Based in Columbia, SC, the organization carries out its mission via a variety of family-centered programs that provide opportunities for parents and teens to come together to talk about some of the most important topics in life: Who am I? and What is my life for? Family Honor also delivers webinars and seminars and markets resources for parents. (Photo above from Family Honor weekend course in Cary, North Carolina, February, 2021.)
Organizer of Understanding the Human Person
Family Honor, Inc., founded in 1988 and based in Columbia, SC, provides a Catholic framework on the truth and meaning of sexuality, love, and family. This is done via our parent-child programs and also our courses, conferences, and resources for parents, ministry leaders, and other interested adults. For more information, visit: https://familyhonor.org/