Schools have adapted their operations in relevance to the lockdowns during the COVID-19 pandemic era. How can technology play a role today?
About this event
Quote from the World Economic Forum:
The COVID-19 has resulted in schools shut all across the world. Globally, over 1.2 billion children are out of the classroom.
As a result, education has changed dramatically, with the distinctive rise of e-learning, whereby teaching is undertaken remotely and on digital platforms.
Research suggests that online learning has been shown to increase retention of information, and take less time, meaning the changes coronavirus have caused might be here to stay.
With an abrupt shift away from the classroom in many parts of the world including Southeast Asia countries such as Singapore, the Philippines, Malaysia and Vietnam, some are wondering if the adoption of online learning will continue post-pandemic, and how can technology play a long-term role in schools today.
Even before COVID-19, education technology was experiencing rapid growth and adoption, with global edtech investments reaching US$18.66 billion in 2019 and the overall market for online education projected to reach $350 billion by 2025.
Since COVID-19, there has been a significant increase in the usage of language apps, virtual tutoring, video conferencing tools, and online learning software. This only means technology is here to stay, and schools should take control of that to enhance their daily operations, improve home-and-school communications and set a standard for blended learning.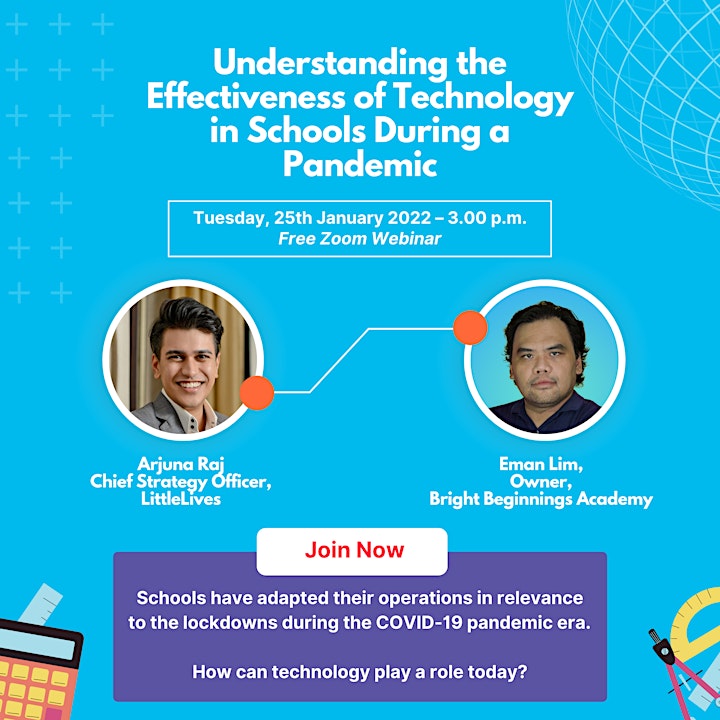 Join our speakers Arjuna Raj, Chief Strategy Officer of LittleLives and Eman Lim, Owner of Bright Beginnings Academy as they share how technology has positively impacted their business and improved the overall effectiveness of running a school using technology.
This 1-hour webinar will cover the education trends LittleLives has observed from its many schools in 12 countries, including the Philippines, and how Bright Beginnings Academy leveraged technology to maintain and improve relationships with parents during lockdown.
This free webinar will happen over Zoom.
Organizer of Understanding the Effectiveness of Technology in Schools During a Pandemic