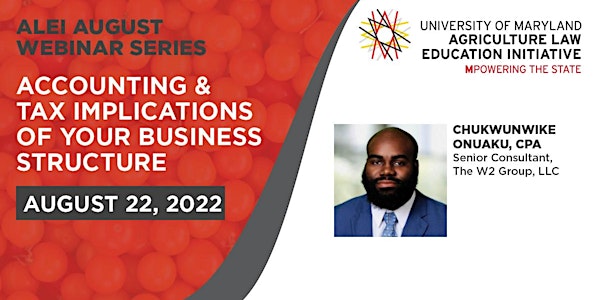 Understanding Tax & Accounting Implications of Business Structures
ALEI August Webinar Series 2022 - Legal Considerations for Choosing Your Farm Business Structure
About this event
The ALEI August Webinar Series on Legal Considerations for Choosing Your Farm Business Structure. This series of webinars will help new and beginning farm entrepreneurs understand their options when choosing a business structure, commercial insurance needs and considerations, accounting and tax implications of business structures, and feature farmer speakers to discuss their experiences with their chosen business organization. Each webinar will include approximately 20 minutes for group discussion and Q & A.
Understanding Tax & Accounting for Your Business Structure - This session will cover the basics of business accounting and tax implications associated with the various business forms.
Speaker: Chukwunwike Onuaku, CPA, Senior Consultant, W2 Group, LLC
Chukwunwike (Chuk) is a Small Business Consultant of The W2 Group, LLC, a solution-driven Accounting and Advisory firm specializing in bringing cloud-based solutions and efficiencies to the beginning farmers community and mature agricultural operations doing business with the federal, state, and local governments.
Chukwunwike is a Certified Public Accountant with Big 4 experience working as an auditor for KPMG for 3.5 years. He worked with clients in several industries, including government, life sciences, and construction. Additionally, he was an Assistant Manager at Marriott in Financial Reporting and Analysis. He assisted in completing key quarterly reports for upper management on the Consolidated Balance Sheet and Statement of Cash Flows team.
With all the skills developed throughout his career, Chukwunwike uses these abilities to provide specialized customer service and solve business problems.
This work is supported by the Beginning Farmer and Rancher Development Program grant no. 2021-49400-35619 from the USDA National Institute of Food and Agriculture.