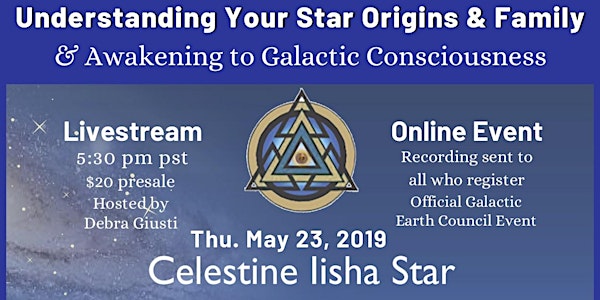 Understanding Star Origins & Family - Awakening to Galactic Consciousness
Description
Do you have the sense that you have a spiritual lineage beyond this earth, and have a feeling that you might be linked with other Galactic Star systems?
Do you feel a passionate curiosity about Galactic beings, and possibly wonder if you have a personal and spiritual connection with them?
---
Dr. Celestine Star, D.D., is an Ambassador for the High Spiritual Council and the Galactic Star Federation, and has been an Ultraterrestrial and Heavenly Emissary contactee for over 45 years offering her galactic wisdom and knowledge worldwide to private groups and individuals.
In this webinar, she will allow you to discover why you originally came to Earth and what your personal Galactic Lineage is through Dr. Star's Galactic Origin, a Celestial Activation Encodex given to Star by the High Spiritual Council.
Do you have an insight that your next spiritual evolution will be an awakening into Galactic Consciousness? And what does it mean to have Galactic vs Global Consciousness? Why are we seeing more UFO sightings than ever before and how does this affect the future of mankind? And what does "Awakening to Galactic Consciousness" really mean?
Dr. Celestine Star will be offering positive answers to these questions as she reveals hidden knowledge concerning the unfoldment of the "Reintegration of Star Kin and Earth Kin", as humanity is now awakening and Earth is once again becoming a fully Galactic Planet.
Dr. Star will reveal information given to her from the High Spiritual Council and the Galactic Star Federation on how the Cosmic Vibrational Frequencies (CVF) surrounding our Earth are shifting. You will learn how the Cosmic Vibrational Frequencies are becoming higher as we move deeper into the new "Sector of Time and Space" and how they enhance and elevate human consciousness.
Come learn how the veils are dropping between the Earth Kin, Humanity and the Star Kin, Ultraterrestrials, and how those who recognize the change are seen as the "Awaken Hope for Humanity".
---
Celestine Star, D.D. has been called a "Renaissance Woman" for our evolutionary times, possessing great knowledge, wisdom and expertise in many fields of endeavor. Star is an Ambassador to the High Spiritual Council and the Galactic Star Federation, Sacred Wisdom Keeper, Grandmother, Author, Speaker, Healer, Holistic Therapeutic Practitioner, Spiritual Leader, Multimedia/Documentarist and Event Producer. She is currently owner of Papillon Life Services (2002), a Holistic Therapeutic Healing Practitioner, Golden Star Productions (1987), an Events and Media company producing documentaries, Live-Video events and workshops, Multimedia productions and archives of human history. In 2010, she created the Galactic Earth Council, sacred "Skywatch" circles for those who heard the "Clarian call" to come experience personal contact with our Ultraterrestrial Star Kin.
Star's life experiences in the world of Metaphysics and her contacts with Ultraterrestrial Beings inspired her to open the Temple of Light and Enter Dimensional Light Services in 1987, where she held Light Group Meetings, private Skywatch, specialized events, lectures, workshops and presentations along with Celestial Activations, sacred ceremonies and private teachings. Participants learned about advanced Ufology, advanced science, consciousness evolving metaphysics, health, nutrition, relationships and emotional healing. Star's practice of over 40 years and life work has touched thousands of people from around the world fulfilling her mission in life to assist in the evolution of human consciousness on our planet and keep the Way sacred.
---
Understanding your Star Origins & Family and Awakening into Galactic Consciousness
Webinar 1.5 Hour
Q. and A. 30 minutes
~~~~~~~~~~~~~~~~~~~~~~~~~~~~~~~~
DEBRA RECOMMENDS is giving away 12 FREE livestream tickets to this event! Enter to win HERE!
See who's joining on Facebook HERE!
Learn more about the Celestial Realities - Galactic Earth Council
~~~~~~~~~~~~~~~~~~~~~~~~~~~~~~~~
*** Everyone who registers will recieve a recording of the event whether they can make the live event or not