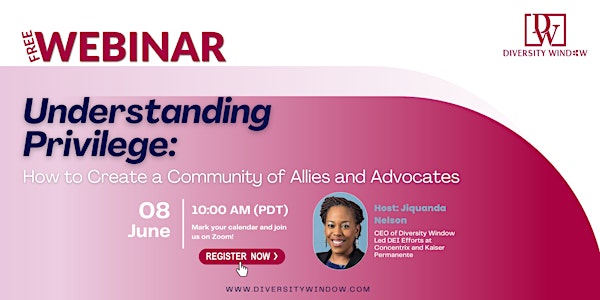 Understanding Privilege: How to Create a Community of Allies and Advocates
Explore privilege: Identify types, self-reflect, become an ally. Join our webinar for strategies on advocating diversity & inclusion.
Date and time
Thursday, June 8 · 10 - 11am PDT
About this event
Privilege has long been a hot topic when it comes to propelling Diversity, Equity, Inclusion, and Belonging efforts. In this session, we will break down the different types of privileges, how one can identify their own privilege, and ways to use privilege as an ally to advocate for all. You can expect about 20 mins of content and 30 mins of Q&A.
About the host
Jiquanda brings extensive experience of creating and leading Diversity, Equity and Inclusion strategies and programs at Fortune 100 companies like Walgreens and Abbott. Her recent experience at the giant healthcare Kaiser Permanente and Concentrix, a global customer and technology engagement organization spanning 40 countries, offers organizations a broad range of DEI programming, training, and outcomes.