Description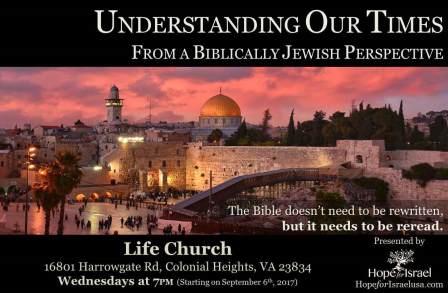 Hope for Israel Speaker:
Paul Klassen
To register for the seminar, click the "Choose Date" button. Registration is free.
---
Dates and Topics
September 6: Understanding the Shabbat (shorter version) with communion

September

13: Israel: What's the big deal

September

20: Appointed Times of God

September

27: Biblical Festivals: Spring-Passover, Unleavened Bread, First Fruits, Shavuot


October 11: Biblical Festivals: Fall-Rosh Hoshana, Yom Kippur, Succot (Tabernacles)

October 18: Repairing the Breach

October 25: The Path of the Righteous Gentiles


November 8: God's Promises to Ishmael

November 15: Isaiah 53 Explained -Sharing your faith in a Biblical way


December 6: Commissioning evening celebration.
*Class notes will be available online after each seminar.