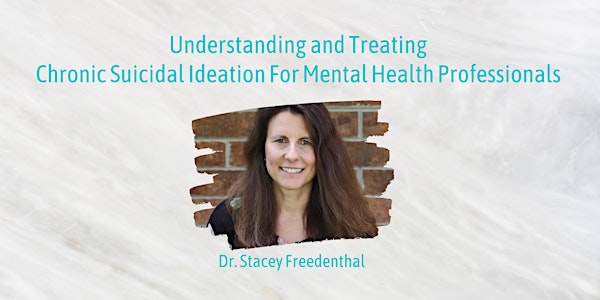 Understanding and Treating Chronic Suicidal Ideation
Dr. Freedenthal will be sharing how mental health professionals can best serve clients who are chronically suicidal.
About this event

The VA would like to give many thanks to Still Serving Veterans for sponsoring this event.
In preparation for Suicide Prevention Month in September, we are so honored to have Dr. Stacey Freedenthal speak to us virtually about how mental heath professionals can best serve chronic suicidal clients. Topics include understanding chronic SI, theory and research, countertransference, self care and tips for treatment and intervention.
More about Dr. Freedenthal:
Dr. Freedenthal has worked in the field of suicide prevention since 1994. She is a psychotherapist, suicidologist, consultant, writer and associate professor at The University of Denver's Graduate School of Social Work. She wrote Helping The Suicidal Person: Tips and Techniques for Professionals in 2017 and has another book, Loving Someone with Suicidal Thoughts, coming out in 2023.
She also runs the website speakingofsuicide.com.