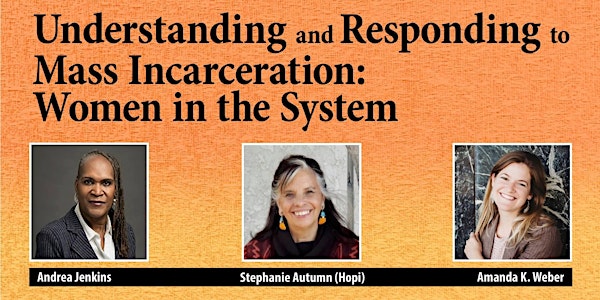 Understanding and Responding to Mass Incarceration: Women in the System
When and where
Location
Metropolitan State University 700 7th Street East Saint Paul, MN 55106
Description


Join Metropolitan State University for the Sixth Annual Forum on Understanding and Responding to Mass Incarceration (URMI). We will explore this year's theme, Women in the System,
through
featured speakers
, women sharing lived experiences of before, during and after incarceration, breakout discussions, performance, spoken word and song
.
#URMI2019 aspires to inform various dimensions of mass incarceration, connect change-makers to each other, and inspire participants to activate strategies that will make mass incarceration a thing of the past.


Pre-Conference Screening/Discussion of the award-winning film MILWAUKEE 53206
Thursday, April 11
6 p.m.-8:30 p.m.
Founders Hall Auditorium
Metropolitan State University
387 Maria Avenue, St. Paul, MN 55106
Free and open to the public; no pre-registration required.
Conference Agenda
Friday, April 12
8:00-8:30am Registration
8:30-9:00am Welcome and Opening Remarks with President Ginny Arthur, Metropolitan State University, and Andrea Jenkins, Minneapolis City Council Vice President
9:00-9:50am Keynote with Stephanie Autumn (Hopi) – Standing Strong Against the Wind: Reclaiming our Relatives from the Prison Systems
9:50-10:50am Panel – Women's Lived Experience Before, During, and After Incarceration
10:50-11:10am Break
11:10am-12:10pm Morning Breakout Sessions – Understanding Mass Incarceration
12:10-12:35pm Box Lunch
12:35-1:25pm Lunch Program – Voices of Hope: Songs and Stories from a Women's Prison Choir with Amanda Weber
1:25-1:45pm Break
1:45-3:15pm Afternoon Breakout Sessions – Responding to Mass Incarceration (Continuation of Morning Sessions)
3:25-3:45pm Closing – Spoken Word with Aazia Marie and Closing Reflections
Breakout Sessions
Morning Breakouts: Understanding Mass Incarceration
(11:10am-12:10pm)
The purpose of the morning breakout session is to gain greater insight into one key facet of the system of mass incarceration and the role that sexism, racism, felony disenfranchisement and barriers to re-entry play in perpetuating it, especially their impact on women and the children of incarcerated women. These sessions are designed to be conversations that are both informative and reflective.

Afternoon Breakouts: Responding to Mass Incarceration
(1:45-3:15pm)
The promise of the afternoon breakout session is to be part of the solution to the injustices of mass incarceration, racism and sexism, particularly as it impacts women in the system and the children of incarcerated women. These sessions include time for discussion of current activism, possible future organizing efforts and commitment to action.
Afternoon breakout sessions are designed to continue the conversations begun in the morning sessions. Participants are encouraged to remain with the same group for both sessions.



Keynote Speakers
Andrea Jenkins is a writer, performance artist, poet, and transgender activist. She is the first African American openly trans woman to be elected to office in the United States and currently serves as Vice President of the Minneapolis City Council. Jenkins has experience working in community development in North Minneapolis, and in delivering social services in South Minneapolis. Jenkins worked as a staff member on the Minneapolis City Council for 12 years before beginning work as curator of the Transgender Oral History Project at the University of Minnesota's Jean-Nickolaus Tretter Collection in Gay, Lesbian, Bisexual and Transgender Studies.
Andrea holds a Masters Degree in Community Development from Southern New Hampshire University, a MFA in Creative Writing from Hamline University and a Bachelors Degree in Human Services from Metropolitan State University. She is a nationally and internationally recognized writer and artist, a 2011 Bush Fellow to advance the work of transgender inclusion, and a recipient of numerous awards and fellowships.
---
A member of the Hopi Tribe, Stephanie Autumn has 38 years of local, national, and international AI advocacy and policy work experience, and has presented at various Human Rights forums at the United Nations in Geneva, Switzerland and in New York. She has worked throughout the country on issues of American Indian adult and juvenile justice, substance abuse prevention, restorative justice, and tribal youth mentoring programs.
Ms. Autumn served as the Executive Directive of the Minnesota Restorative Justice Campaign for five years and is a skilled Restorative Practitioner facilitator, trainer, and Circle Keeper. She has provided expertise/testimony for the MN & SD Departments of Corrections with regards to Traumatic Brain Injury and Trauma Informed Care needs/issues with incarcerated American Indian youth and adults. For the past twenty years, Ms. Autumn has provided expertise to the MN Department of Education on disproportionality issues that impact American Indian youth and communities, and she is the founder of the American Indian Prison Project Working Group.
---
Recognized by the Yale Institute of Sacred Music as a conductor "of exceptional promise and achievement," Amanda K. Weber is passionate about uniting music, art and community through her work as an artist and collaborator. Weber's recent focus has been the Voices of Hope, a women's prison choir at the Minnesota Correctional Facility in Shakopee. Founded by Weber in October 2015, the choir has grown from 15 to 50 singers and collaborated with over 200 musicians from the Twin Cities metro area.
Weber's interest in using music as a tool for social justice grew through her work at Luther Place Memorial Church in Washington, DC, where she founded Bethany's Women of Praise, a choir for homeless women, in 2008. She received a Doctorate of Musical Arts from the University of Minnesota in 2018, a Master of Music Degree in Choral Conducting at the Yale School of Music and Institute of Sacred Music in 2013, and a BA in Music and Art at Luther College in 2008.

Parking
The Parking Ramp at Metropolitan State University is located at 400 Maria Avenue in the heart of the St. Paul campus. Daily parking rate is $5.00 per vehicle. Carpooling is highly encouraged. Please, out of respect for our Dayton's Bluff neighbors, use the university parking ramp.
Accessibility
If you need disability related accommodations, including parking, to make these events accessible, please contact the Center for Accessibility Resources, 651-793-1549 or accessibility.resources@metrostate.edu.


Organizers
#URMI2019 was organized by Metropolitan State University's Department of Human Services, School of Law Enforcement and Criminal Justice, and the Institute for Community Engagement and Scholarship.
Sponsors
The organizers are deeply grateful to all of our sponsors, whose contributions made this event free of charge to all participants: Metropolitan State University's Office of Equity, Inclusion and Affirmative Action, Office of the President, Office of the Provost, and the Institute for Community Engagement and Scholarship; Hazelden Foundation; Juvenile Detention Alternatives Initiative; Minnesota Equity in Education; The Council for Minnesotans of African Heritage.
URMI is also made possible in partnership with Ramsey County Department of Corrections and Ramsey County Office of Attorney John J. Choi.



Consider a Free Will Contribution
Free-will contributions in any amount would be greatly appreciated! To donate, click here and select "Mass Incarceration Conference Sponsorship" as your Designation. Thank you for considering a contribution to help defray conference costs and keep this accessible to all.
Share on Social Media
Follow #URMI2019:
Facebook @URMIatMetroState
Twitter @URMI_MetroState


Questions? Concerns?
For more information about #URMI2019 contact Therissa Libby at therissa.libby@metrostate.edu or Raj Sethuraju at raj.sethuraju@metrostate.edu.