Understanding and Overcoming Resistance to Inclusive History Narratives
The Peaceful Transfer of Power: Understanding and Overcoming Resistance to Inclusive Perspectives of History ( a screening and conversation)
About this event
Hard History. History isn't all as pleasant as many heritage organizations and historical societies showcase for their visitors and members. Places all over the country have been grappling with how to address hard history in their offerings. For some institutions, there is resistance from within to tell it. For some institutions, they aren't aware how their offerings appear to those who don't look like those with the power in their organization to control the offerings. While some organizations have done the work to critically self-assess themselves in this area, others double-down and either attack those who call out the continuation of unbalanced narratives or passive-aggressively try to undermine those who have and are doing the work by various public and private methods. Researching, telling and uplifting traditionally ignored and underrepresented history gets painted and delegitimized with the broad brushstroke: "contemporary agenda."
During a recent virtual 3 day conference called "Changing Narratives in Changing Times", presenters representing public and private institutions around the country shared their experiences and methods with people eager to learn so that concerns in their communities could start or continue to be addressed. A representative from Howard County Lynching Truth & Reconciliation, Inc. attended the conference. Howard County, MD, recently labeled a "majority minority county" for the first time in its history, has a significant history before James Rouse conceived of and built Columbia, MD. The county is not immune from problems regarding resistance to inclusive history and balanced narratives. From the attendance at the conference, it wasn't the only place represented in Maryland that is looking. The Slave Dwelling Project was approached about doing a screening of one presentation in particular. They agreed to do it AND offered to do a Q&A afterwards. Can YOU use it where you are?
Join Jeanne Pirtle of Historic Sotterley Plantation in Maryland and Joseph McGill of the Slave Dwelling Project for an evening of insightful conversation for Howard County MD and all. This webinar will include a screening of the recent session: The Peaceful Transfer of Power: Understanding and Overcoming Resistance to Inclusive Perspectives of History presented at the 2021 Slave Dwelling Project Conference, followed by Q&A with Jeanne Pirtle and Joseph McGill.
The event is FREE, but registration is mandatory. Can YOU use it where you are?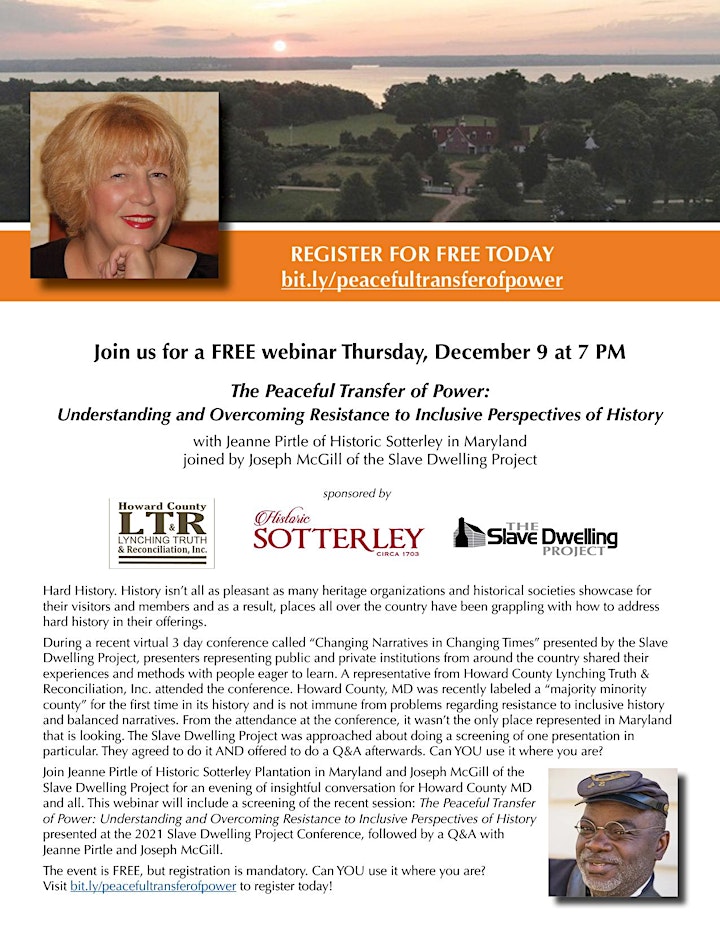 Organizer of Understanding and Overcoming Resistance to Inclusive History Narratives