Description
Understanding and Addressing Women's Use of Force: What Intervention Providers Need to Know to Build Programming Tailored to their Community's Needs
Description
This event will provide an overview of the complexities of understanding and addressing women's use of force. Particular attention paid to intervening in the lives of women who have resorted to using force against their intimate heterosexual partners. Training participants will gain a deeper understanding of how the motivation, intent, and impact of women's use of force is often distinctly different from that of men who batter their female partners. This difference demands that intervention be tailored to the nuanced needs of the population served. Therefore, the focus on interventions throughout this training will be on specific in-group intervention tools and themes practitioners can use as they innovate upon or build their own culturally-competent curricula. Both seasoned practitioners and those just getting started are encouraged to participate in what promises to be a cutting-edge conversation and resource sharing opportunity.


Objectives
Understand and name the general differences between women's use of force and men's battering behavior.
Provide a reason why context is important when considering this issue.
Name at least three interventions effectively used with women who have used force.
Have the experience of participating and/or observing a mock intervention group which utilizes skills and ideas provided during the training.
Pre-Course Online Work
There is an online portion to this course that will take participants approximately four hours of self-study to complete (vido, readings, and responses). Instructions on how to register and complete this work will be sent upon registration.

Agenda
Day 1 (9:00-5:00):
General differences between women's use of force and men's battering behavior at the time of arrest, court hearing, and during court-ordered group intervention.
Overview of the current research on women's use of force.
Example of an intervention program which has built its own curricula.
Overview of promising group interventions
Day 2 (9:00-5:00):
Continued overview of promising group interventions
Participation and/or observation of mock intervention groups serving women who have used force.


Biography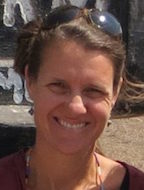 Lisa Young Larance, MSW, LMSW is a practitioner-scholar whose curricula, publications, trainings, and practical work focus on meeting the needs of marginalized women and their families. Ms. Larance is the founder of two innovative community-based programs providing intervention, advocacy, and support for women who have used force in their relationships: Vista and RENEW. She is also the co-creator of the prison-based Meridians Program for Incarcerated Women. In addition to her domestic direct-practice work, Ms. Larance has also consulted internationally including technical assistance and training for staff at Harmony House's Nurturing Hearts Program in Hong Kong, China. She is the former Domestic Violence Intervention Services Coordinator at Catholic Social Services of Washtenaw County and is currently a doctoral student at the University of Michigan's joint doctoral program in Social Work and Sociology.
Logistics
Location
Drury Inn - Santa Fe Room (located on the top floor)
4310 The 25 Way Northeast
Albuqerque, NM 87109
Google Map
Hotel Reservation Information
A special discounted room block has been made available at the Drury for your convenience. We have arranged a discounted group rate of $109 per night. Your rate includes hot breakfast and an evening "Kick Back" with hot food and refreshments.

To Make Reservations: Call 1-800-325-0720 and refer to Group Number: 2300685
Cut Off Date: Friday, April 14, 2017 - Our rate cannot be guaranteed after this date. Please make your reservations before this date.
Meals & Snacks
Meals will be on your own. We will provide coffee, tea, and light snacks throughout the day in the training room.
CEUs
This trainig qualifies for 12 hours of CEU credits through the New Mexico Couseling and Therapy Practice Board.
Cancellation Policy
The full fee is non-refundable if canceled less than two weeks prior to the event.
Disabilities
NMCADV encourages persons with disabilities to participate in its programs and activities. If you anticipate needing any type of accommodation or have questions about the physical access provided, please call 505-220-6582 or email david@nmcadv.org in advance of your participation.
Sponsors
This event is made possible through funding from the Children Youth and Families Domestic Violence Unit.