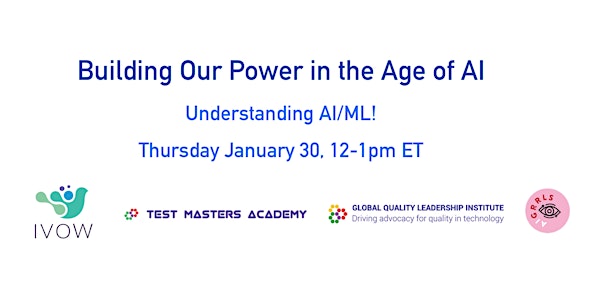 Understanding AI/ML!
How can testers prepare for the future of AI? Our webinar series present practical advice as we delve into the future of testing and AI.
About this event
What are the latest trends in artificial intelligence (AI) across industries? How can AI and machine learning (ML) be used in the next generation of testing? These are some of the questions we will be answering in a series of webinars beginning on December 18 and through April 2020.
Understanding AI/ML! - January 30th, 12pm ET
We will cover some of the basic principles of AI and how a simple neural network works. Also, what to consider when developing AI Testing methodology: Data, Security, Computing and End user. We also discuss why the need for diversity in AI and the women's dataset challenge.
Things to try: NLP library in Python (https://pypi.org/project/textblob/) or Google Tensorflow.
Moderator: Anna Royzman, Founder of Test Masters Academy
Panelists: Aprajita Mathur, Sr. Manager Bioinformatics Software Test of Guardant Health, Raj Subrameyer, Principal Consultant of ChaiLatte, Davar Ardalan, Founder of IVOW AI, Inc., and Kashyap Murali, AI and Deep Learning Developer, Dean of the Princeton School of AI.
Support free education for the community. Sponsor our webinars!
Review the sponsorship packages and next webinars HERE.