Event Information
Refund policy
Contact the organizer to request a refund.
Eventbrite's fee is nonrefundable.
We're Okay Fam is teaming up with the founders of a Place for Us to have an empowering conversation about disabled body and minds.
About this event
How well do you know your body? How connected do you feel to it and to others?
At this collaborative healing- circle event, A Place For Us will lead us in a conversation about disability and its connection to the body and mind. Participants will have a free space to hear from a myriad of unique perspectives and discuss people with disabilities' connection with their bodies. Attendees will be asked to connect with their bodies, minds and souls.
We will also discuss some of the discomfort people endure because disability or pain is so stigmatized in our society. We will navigate the imporance of self-care and reflect on ways we can acknowledge something to change the discomfort we may feel. Our healing cirlce will connect you futher to those parts of you you most need to explore, and the experience will be sure to leave you feeling uplifted and encouraged!
We hope that this event will leave you better informed and more in tune with your body ❤ - WOF x A Place For US
ABOUT A PLACE FOR US
A Place A Place For Us, a national student led organization that aims to unify students with disabilities and their allies across the country. We have created a digital network of students with disabilities and their allies across the nation, connect the high school students with disabilities college student mentors with disabilities, and empower students with disabilities to succeed in higher education and become disability activists. We wanted to create this organization because we have realized through our own experiences that as people with disabilities, we experience the world differently and thus have different challenges in college that many people without disabilities do not understand. Thus we wanted to create a space where students with disabilities can connect and have people to talk to about their unique experiences in college
ABOUT WE'RE OKAY FAM
We're Okay Fam is a collective which gives women both physical and digital spaces in which they can talk about trauma and/ or obstacles they've overcome in their personal journeys with the intention of informing another woman's struggles. Our city-wide healing circle pop-ups and our blog provide women opportunities for daily encouragement and support. We want women to hype other women up through their struggles and to exchange dialogue/perspectives in healthy and respectful ways. Come chat with us and join our sisterhood today!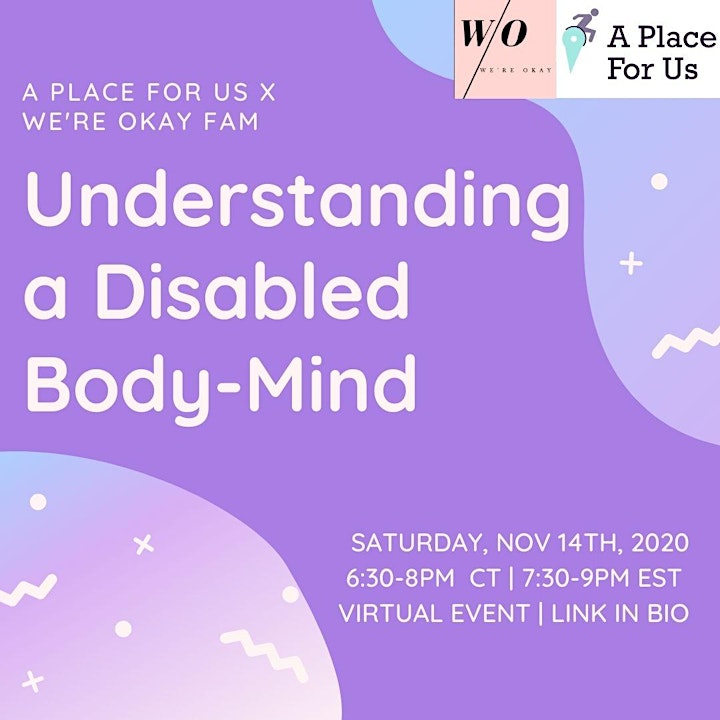 Date and time
Location
Refund policy
Contact the organizer to request a refund.
Eventbrite's fee is nonrefundable.