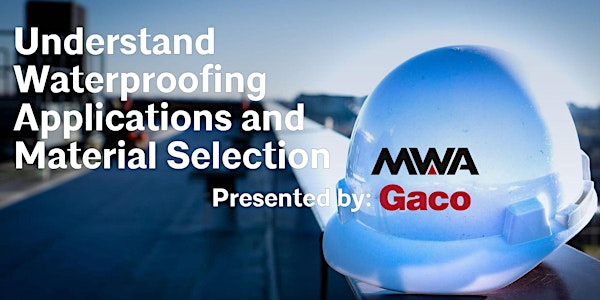 Understand Waterproofing Applications and Material Selection
An AIA Detroit Sponsored Webinar (contact AIAD to get YOUR webinar featured!)
About this event
Brought to you by MWA + Graco
1 Health, Safety, Welfare (HSW) Learning Unit will be provided by Graco
Learning Objectives:
Damp-proofing versus Waterproofing.
Review damp-proofing examples.
Review waterproofing examples.
Reasons for waterproofing.
Applications.
About MWA:
MWA Commercial Roofing Solutions is the representative for Firestone Building Products, Gen-Flex, Gaco, Georgia-Pacific DensDeck, Allied Construction Products, Skyline Fall Protection, SafePro, Kemper System, Structure Monitoring Technology, and OMG Edge Systems. Through our alliance with these outstanding manufacturers, we are the sales representatives and market development specialists that provide comprehensive technical solutions and design options of commercial exterior construction products and systems to architects and design professionals, roofing contractors, and building owners.
About Gaco:
Turn to Gaco's in-market technical experts and nationwide network of approved applicators for versatile, innovative solutions to the most demanding project requirements. Specify Gaco sprayfoam insulation, liquid waterproofing membrane, decking, and roofing systems when your project calls for industry-leading expertise and quality.