The launch of 'Underground: Marsupial Outlaws and Other Rebels of Australia's War in Vietnam', a new graphic novel by Mirranda Burton
About this event
In the spirit of rebellion, progress, peace and justice, please come to celebrate this unique new book in the beautifully refurbished Solidarity Hall. (Level 2 of Trades Hall.)
Guest speakers: Hon Gareth Evans AC, QC & Max Gillies AM
Guests of honour: Hon Jean McLean AM, Bill Cantwell & Mai Ho
To be launched by Bernard Caleo
Chair: Antony Moore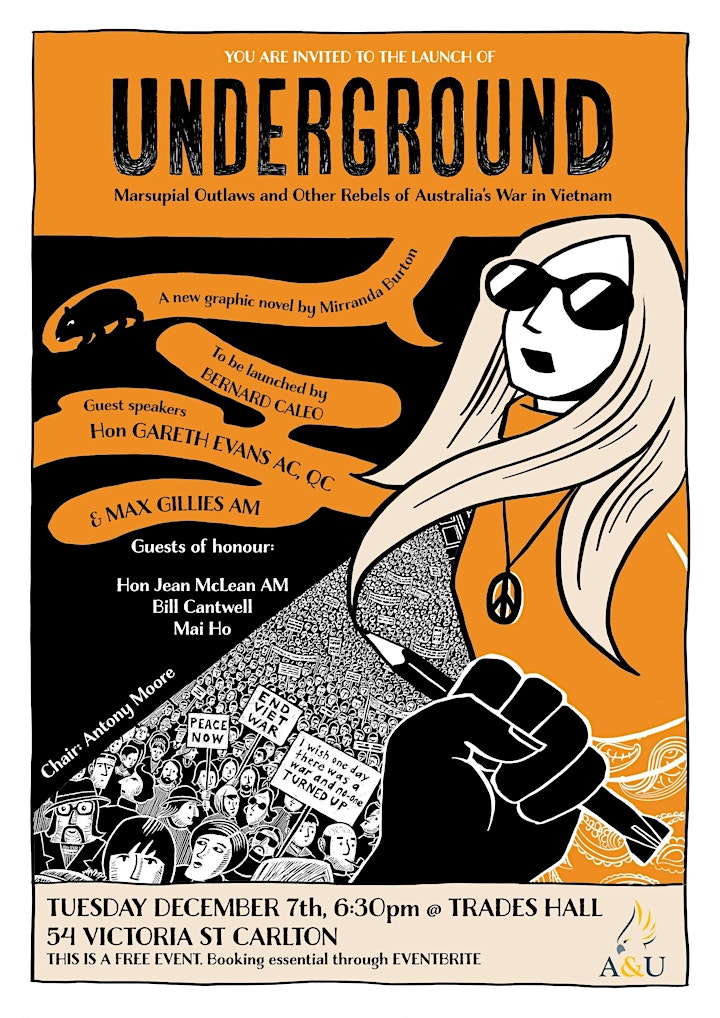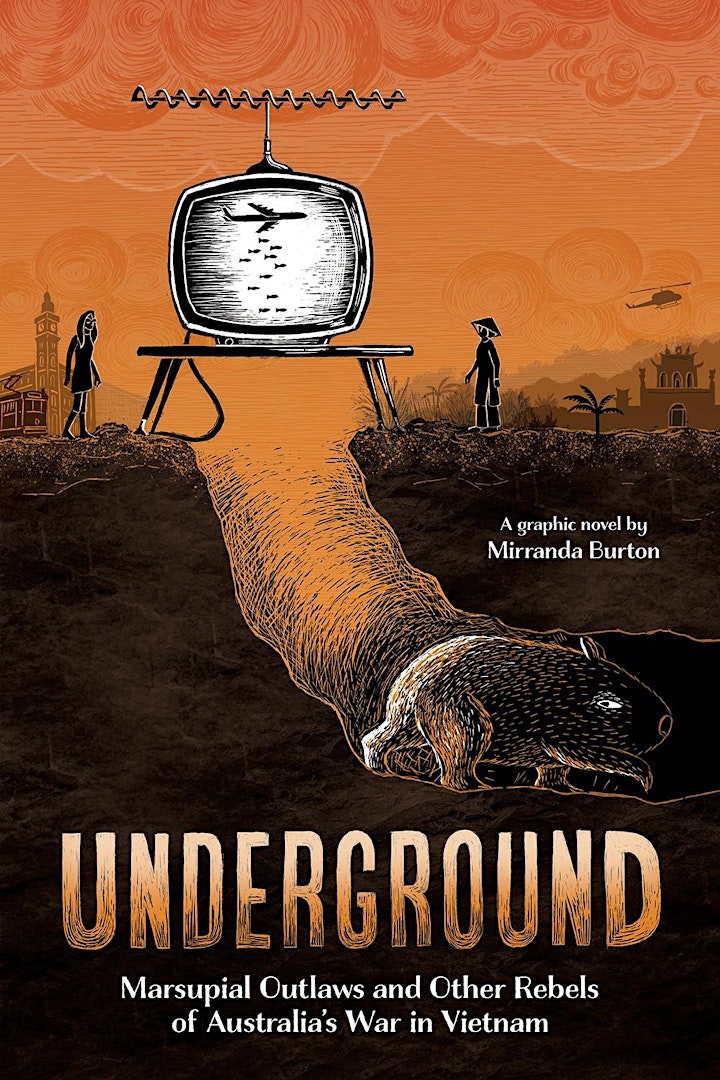 Led by an unconscientiously objecting wombat registered for military service during Australia's war in Vietnam, Underground digs tunnels through a chapter of Australian history that many have attempted to bury.
Why would a wombat be registered for war?
It's 1965, and an old Tattersalls barrel starts rolling marbles to randomly conscript young Australian men to fight in the war in Vietnam. Melbourne housewife Jean McLean is outraged, as are her artist friends Clif and Marlene Pugh, who live in the country with their wombat, Hooper.
Determined to wreck the system, Jean forms the Save Our Sons movement's Victorian branch, and she and her supporters take to the streets to protest. Meanwhile, in the small country town of Katunga, Bill Cantwell joins the Australian Army, and in Saigon, young Mai Ho is writing letters to South Vietnamese soldiers from her school desk. And when Hooper's call-up papers arrive, he mysteriously goes underground…
As these stories intersect in unexpected ways and destinies entwine, a new world gradually emerges - a world in which bridges of understanding make more sense than war. This stunning graphic novel, full of empathy, courage and resistance, is based on true events.
'Every drawing reflects a Vietnamese history era in which I grew up and witnessed the war. I cannot thank you enough for this memory.' MAI HO
'This book is close to my heart.' BILL CANTWELL
'I am thrilled to be part of this graphic novel full of beautiful art and insight. I hope this book educates our youth about what happens when governments go to war, the dreadful cost to both sides of the conflict, and recognise their duty to work for peace.' JEAN McLEAN
A new release by Allen & Unwin. Available in shops from 3rd August. Books can be purchased and signed by the author at the Trades Hall launch.