About this Event
Saturday January 5, 2019 at State House in New Haven
Underground System
Chad Browne-Springer
8pm
$15 advance / $17 day of show
All Ages
UNDERGROUND SYSTEM
Underground System is a quintessential New York City band. A convergence of musical and cultural influences, the unstoppable female-fronted group of neo-afrobeat deconstructionists have cultivated a sound as inimitable as its members.
Owing their foundations to traditional afrobeat (and named after a Fela Kuti song), the bandhas built a national reputation around a seamlessly executed stage show, astonishing wherever they go, and compelling crowds to move with unbridled verve. Robbing american "afrobeat" of its derivative formalism, Underground System continues to reinvent their brand of global dance music, remaining a force determined to recreate, redefine, and reconstruct.
The band has released two single/EPs and several remix records on Ropeadope and Hell Yeah! (Italy), catching airplay tastemaking outlets such as BBC, WNYC (Soundcheck), KCRW (Los Angeles) and WPFW (DC) and press coverage from blogs such as Afropunk, Okayafrica, Afropop Worldwide, The Village Voice, Test Pressing, Timeout, and others.
In demand with large scale cultural institutions as well as festivals and club nights, notable recent performances include Central Park SummerStage w/ Seun Kuti & Roy Ayers, GroundUp Festival 2018, Sinkane Presents: Underground System at National Sawdust, Output Rooftop, Bowery Ballroom (NYC) w/ !!! (chk chk chk), Chicago World Music Festival, and National Sawdust w/ Tigue and Innov Gnawa.
Hints of afrobeat, no wave, world, electronic, contemporary classical, disco, house, and genre defying elements combine tightly to reflect a self-aware, edgy, and cohesive statement not currently being made by any other band.
CHAD BROWNE-SPRINGER
Chad Browne-Springer is an audiovisual artist from East Hartford, Connecticut. He has released a multitude of genre-hopping compositions, continuously defying the compartmentalization of artists of color. Growing up, Chad dove into multiple musical quests, having some classical, musical theater, and jazz vocal training. With a developing interest in instruments, he started to fuse these different elements into a unique sound of his own. His first statement to the world was what some would call "Frank Ocean meets John Mayer" — an acoustic EP entitled Hi I'm Chad.
Following the intrigue of this project, Chad picked up a new "instrument," FL Studio, which opened up a new world of crossing genres. Creating the new sound "E.R.B" (Electronica and R&B), he made a second statement displaying his wide array of tastes and potential on the full-length album The Wonders of the Wanderer. Subsequently, Chad released a body of work entitled Miscellaneous Morsecode: Frequency, which highlights Chad's virtuoustic arrangements, boundless sound palette, and sampling acuity.
More recently, Chad has taken a more attentive look at vocal manipulations and harmonic stacking/looping — prominent elements in his upcoming album Love's Letter. The project follows an extensive "couchspedition" that Chad embarked on in the summer of 2017. Traveling around six states in two months found the creative nomad seeking a testament to his hosts, friends and loved ones.
Chad is an active participant in The People Project, as well as the frontman in the New Haven psychedelic R&B group Phat A$tronaut, who recently released their acclaimed debut record The Fifth Dimension.
https://www.youtube.com/watch?v=D2Z6Qe_l_io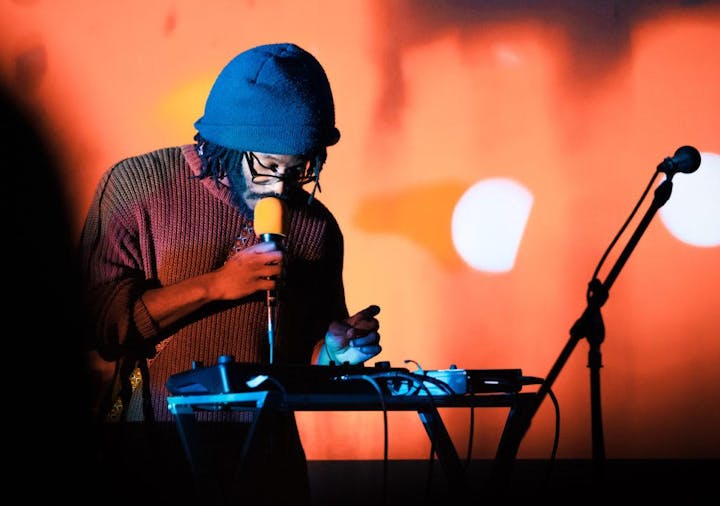 Chad Browne-Springer (Photo by Denis Semenyaka)