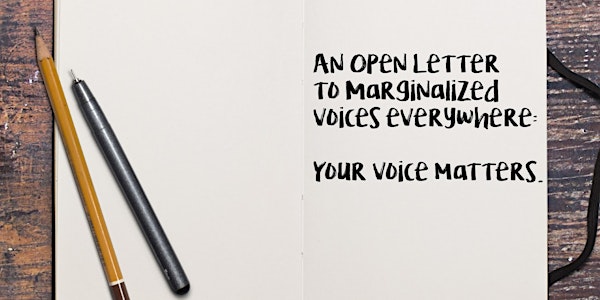 Undergraduate Research Conference: Marginalized Voices
Empowering the undergraduate population and ALL marginalized voices
When and where
Location
Penn State Harrisburg Olmsted Building (Gallery Lounge & W132) 777 W Harrisburg Pike Middletown, PA 17057
About this event
YOUR VOICE MATTERS
Join us for this 2-day event!
Attendees are welcome to attend any or all sessions
Constitutional rights plague the political platform; however, most individuals lack the capabilities to discern the nuances associated with the law. And unfortunately, undergraduate students often underestimate their voice for various reasons ranging from inexperience to fear. Due to this compound situation, some individuals are often not empowered to raise their voices in any situation.
This lack of knowledge/or status often places individuals into self-imposed silos that marginalize their voices. This 2-day event will peel back constitutional rights in relationship to the lack of inclusivity based on numerous "isms" within society. The focus will be on empowering the undergraduate population and ALL marginalized voices.
This undergraduate conference will be an opportunity for students to disseminate knowledge, network and challenge each other on current events.
What?
45-60 minute sessions scheduled Tue-Wed, Oct 29-30th featuring speakers who are experts in their field from Penn State Harrisburg and the greater Harrisburg area.
Where?
Olmsted Building
Penn State Harrisburg
When?
Tuesday, October 29th: 9:30am-12:30pm
Wednesday, October 30th: 9:15am-2:30pm
RSVP
Kindly requested by Tuesday, October 15th
You are invited to attend any and all sessions.
A detailed program of the topics and speakers will be available as the date approaches.
To attend a Special Speaker Engagement at the Eastgate Center and the Final Networking Event, please click on the links below for more information and to RSVP:
Keynote Speaker: Judge Gregory J. Smith
Eastgate Center
1010 North Seventh Street, Harrisburg, 17102
Tuesday, October 29th at 6:00pm
RSVP: lawandmarginalizedvoices.eventbrite.com
Networking Session
Participating Organizations include local organizations from the greater Harrisburg area.
W107 Olmsted Building
Penn State Harrisburg