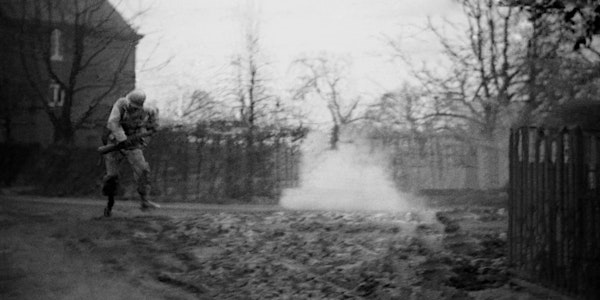 Underfire: The Untold Story of Pfc. Tony Vaccaro
By Dog Green Productions / Think Loud Media Inc.
Date and time
Thursday, November 12, 2015 · 6 - 9:30pm EST
Location
Museum of the Moving Image 36-01 35th Avenue New York, NY 11106
Refund Policy
Contact the organizer to request a refund.
Description
Please join us for a private screening and fundraising benefit for
Underfire: The Untold Story of Pvt. Tony Vaccaro
Thursday, November 12, 2015 at Museum of the Moving Image
Cocktails and Hors d'oeuvres will begin at 6pm.
Film will begin at 7pm.
Q&A with Tony Vaccaro will begin at 8:30pm.
All purchased tickets are a donation to Think Loud Media, the 501(c)(3) fiscal sponsor for the film.
---
Underfire: The Untold Story of Pvt. Tony Vaccaro is a feature-length documentary film about Tony Vaccaro, a WWII infantryman who used his portable 35mm camera to create one of the most comprehensive and intimate records of the war. In combat for nearly a year, Tony took thousands of images, often developed in helmets at night. It wasn't until the late 90's that this extraordinary body of work was first discovered and celebrated in Europe, though in the United States Tony, who is still alive at 93, has yet to receive his due.
Directed by Max Lewkowicz
www.tonyvaccarofilm.com
About the organizer
Dog Green Productions was founded by Max Lewkowicz, an award-winning, history-based documentarian with over 30 years of production experience.  Our production philosophy is based on merging uncompromising truth with powerful creative passion. 
From the D-Day Landing Beaches in Normandy to the first Jamestown Settlement in Virginia, from stories of the horror of life and death in Auschwitz-Birkenau to "Checkpoint Charlie" in Cold War Berlin, Dog Green Productions' primary focus has always been the historical, political and sociological stories that have been part of a continuously changing world.  With that mission, Dog Green Productions (named after a sector of Omaha Beach on D-Day) has produced countless award-winning documentary films and interactives for museums, television networks, exhibitions and interpretive centers located in places as varied as South Africa, France, Israel, the United Kingdom, Poland, Canada, and Japan.

---
Think Loud Media, Inc. is the fiscal sponsor for Underfire: The Untold Story of Pvt. Tony Vaccaro. A 501(c)(3) non-profit organization, Think Loud Media is an education and multimedia organization, formed for the purpose of telling stories that communicate the importance of civic and legal education with a focus on historical events that mark important turning points in American history. Think Loud Media seeks to promote historical, civic, and legal education through the development and production of films, interactive programs, web applications, and websites.  For example, Think Loud Media creates documentary films that are supplemented by interactive websites and educational web applications, thus enabling students to engage with educational material in an immersive multifaceted intellectual experience 
With a goal to reach as wide an audience as possible, Think Loud Media aims to accomplish this by distributing films and multimedia educational materials for free, except for duplication and handling costs, to educational institutions that teach students from kindergarten age through grade 12, as well as distributing its film and multimedia educational materials through cable broadcast networks, web streaming and social media.