Description
Going through a major life transition or seeking to bring about change in some way?
Maybe you're wanting to find ways to live in greater alignment with that wild authenticity inside?
Ready to let go of some of the old and step forward into a greater sense of wholeness and connectedness?
Here's a modest, grounded and earthy proposal to enliven the way you show up in the world.
"Do not try to save the world or do anything grandiose. Instead, create a clearing in the dense forest of your life and wait there patiently, until the song that is yours alone to sing falls into your gently cupped hands and you recognize and greet it. Only then will you know how to give yourself to this world so worthy of rescue." - Martha Postlewaite
Through the practice of intentional floating, we enter a new environment as a space to let go of the familiar self, the patterns, the habits and the stories. In this space we lay in the stunning silence, and open ourselves up to sway in the language of stillness. As we float in the silence and stillness we have almost forgotten how to handle, we start to meet ourselves, see parts of ourselves we'd forgotten and see our lives with new clarity and new life. We become aware of stories we are telling ourselves that no longer serve, visions we hold that we are withholding ourselves from and answers that we've been searching for only to know they've been there all along.
Join us on this journey as we use the emerging technology of Floatation Therapy, as well as reflective practices, movement and embodiment practices and sharing circles to bring light to stirrings and questions we hold, develop a broader and balanced perspective on the stories we hold of ourselves and integrate a new sense of self through somatic practices.
What will the journey entail?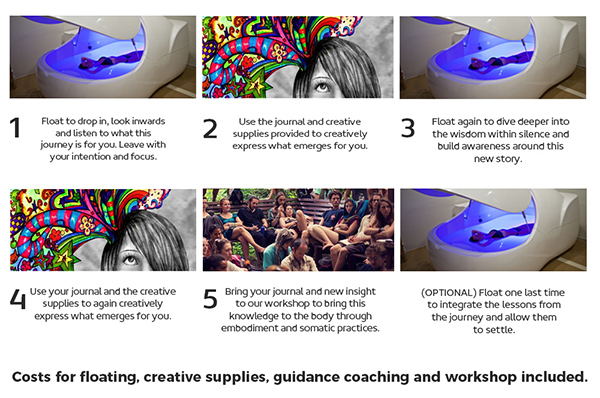 // THE 60-MINUTE FLOATS
First float - Between 4th June - 10th June
Second float - Between 11th June - 15th June
You will be given a float guide upon arrival at Beyond Rest that will guide you through each float. Each float you will be guided through specific reflective and contemplative exercises to bring awareness to where there may be resistance and opportunities for growth. You will be gently guided in and out of the tank and given a journal and creative materials to express what emerges for you during your float.
You will also be invited to practice a specific journaling exercise between your floats to ensure you are supported in your journey in between sessions.
After your last float, you will use your journal to express what emerges again and any new layers of insight you gained.
Upon registering you will receive a booking link to book your floats in with Beyond Rest.



// THE WORKSHOP
Live Workshop - Saturday 16th June 10am - 4pm
In this workshop we use a series of relational, movement and somatic exercises to deconstruct and reconstruct what emerged for us during our floats. We use the power of primal movement, breathwork, circle/council and nature to integrate the new sense of self, purpose and clarity that we've gained.
You will leave feeling resolved, grounded and connected, supported, elevated and embodied.
// PERSONAL GUIDANCE + COACHING
During this 2-week journey you will be supported with Al by your side. You will have a guidance call before your first float and after your second float to answer any questions that arise, and make sure you are focussing on your greatest opportunity.
What can I expect to get out of this experience?
- Clarity on the belief, pattern or posture that is creating blockages to you living in your authenticity and power;
- The space and processes to guide you through the blockages and challenges that arise for you as observed during your floats;
- Greater sense of connection with purpose and what fuels your authenticity;
- A heightened comfort in your ability to express without inhibitions or fear of judgment;
- A set of self-practices you can use to anchor yourself in this state and bring yourself back to alignment;
- Connection to a supportive tribe to nurture and grow with following this experience.
What is my investment for this experience?
Registration includes; 2 60-min floats (valued at $158), journal and creative materials, full day workshop + lunch, personal guidance calls, free guided meditations
Early Explorer: $220 (until May 13th)
Early Explorer with Payment Plan: 3 x $75 payments (until May 13th)
Not-so-early Explorer: $235
Additional 3rd float: $70
If payment or money is a barrier for you to experiencing this work and you feel this is something that could be healing for you, please let Al know and we can discuss alternative options.
Who is facilitating this journey?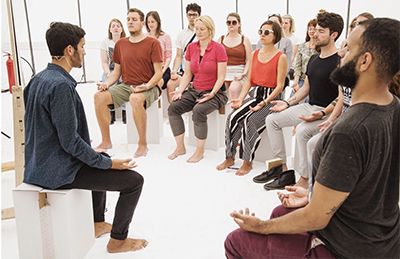 Al Jeffery is an international facilitator and speaker supporting people worldwide in returning to a greater connection with their authenticity, purpose and aliveness. He has worked with well over 10,000 people and companies such as Apple, Google, AusPost, Deliveroo and more since the age of 14. Taking a very intuitive and holistic approach to healing and transformation, Al has studied in modalities such as yoga, meditation, reiki, ayurvedic massage, the way of council, forest therapy, NLP, animal flow and more.

"Al is a highly perceptive and personable facilitator who has a magical way of making everyone feel at ease, and at the same time rise to a greater sense of self. He has a powerful ability to respond intuitively to the room and as a coach is outstanding at helping you gain clarity and integrate this in your experience." - Sally (previous float journey participant)

FAQs
Are there any age limits or requirements to participate?
Nope. Anyone can experience floating and participate in the workshop afterwards. We do ask that anyone under 18 years of age gets written parental consent.
When do we float?
When you register you will be connected with our partnered floatation centre to organise a time to float in the week two weeks prior to the 12th of May and the week prior. All materials will be ready at the floatation centre for you when you come out of your float.
If I choose to only float twice but then decide to float again after the workshop, can I add this in?
For sure. If after the workshop you feel a 3rd float to integrate would be beneficial, just get in touch with Al and let him know so you can go ahead and book another time with the floatation centre.
Where can I contact the organiser with any questions?
Feel free to contact Al directly at al[at]realiseflow[dot]com with any questions.