Description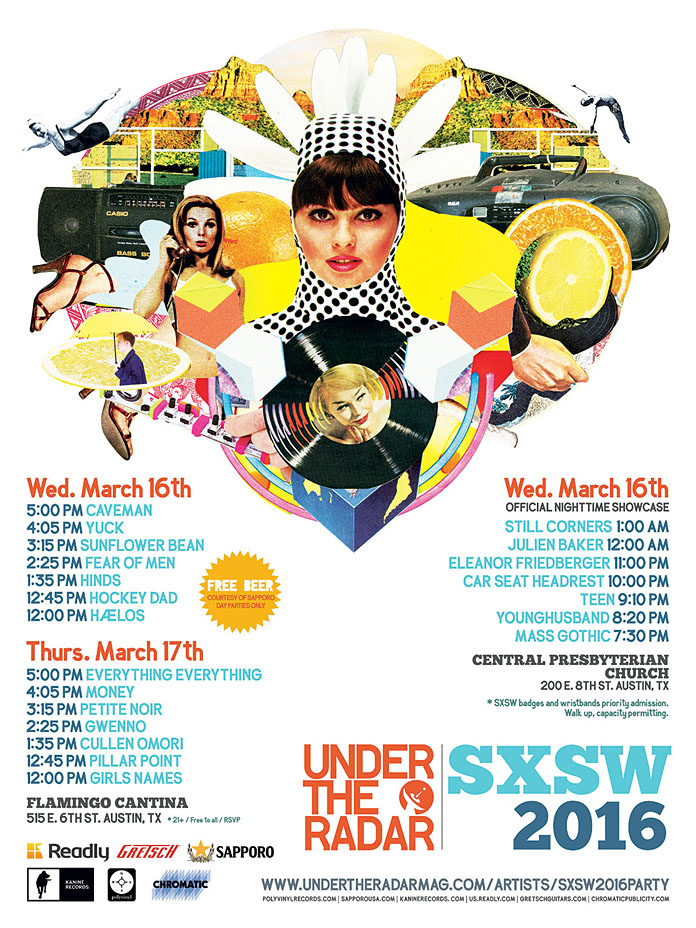 Under the Radar magazine is hosting two SXSW 2016 day parties, on Wednesday, March 16 and Thursday, March 17. The lineups include Everything Everything, Caveman, Hinds, Yuck, Sunflower Bean, Petite Noir, Girls Names, Gwenno, MONEY, Cullen Omori, and more.
The events are sponsored by Readly, Gretsch, Polyvinyl, and Kanine and will feature free beer courtesy of Sapporo USA as well as munchies from Justin's (while supplies last). Readly will be onsite doing a drawing to give away $100 Amazon Gift Cards to those who sign up for a free 30-day trial, so get there early to enter to win. And of course, there will be free Under the Radar magazines! These events are free and open to the public (21+) and you can RSVP here for priority entry.
Here are the set times:
Wednesday, March 16 Day Party at Flamingo Cantina:
5:00 PM: Caveman
4:05 PM: Yuck
3:15 PM: Sunflower Bean
2:25 PM: Fear of Men
1:35 PM: Hinds
12:45 PM: Hockey Dad
12:00 PM: HÆLOS
Thursday, March 17 Day Party at Flamingo Cantina:
5:00 PM: Everything Everything
4:05 PM: MONEY
3:15 PM: Petite Noir
2:25 PM: Gwenno
1:35 PM: Cullen Omori
12:45 PM: Pillar Point
12:00 PM: Girls Names

These events are free and open to the public—no SXSW badges are required (but it is 21+). You're welcome to just show up on the day, but you can RSVP for priority entry. An Eventbrite RSVP does not guarantee entry, but will put you in a priority line if the venue is at capacity. Your best chance of getting in is RSVPing and showing up early.
About Under the Radar: Under the Radar is an internationally distributed indie music print magazine and website that's independently published by husband-and-wife team Mark and Wendy Redfern. This December it will celebrate its 15th anniversary. Under the Radar has been hosting events at SXSW for a decade. Artists to perform at Under the Radar's SXSW events in previous years include Mumford & Sons, Fleet Foxes, Charli XCX, Future Islands, of Montreal, Camera Obscura, Atlas Sound, Reggie Watts, The Drums, DIIV, Richard Hawley, Chairlift, Django Django, Deerhoof, Mew, and many others. The quarterly magazine's most recent print issue was the Best of 2015 issue, which featured Father John Misty and Wolf Alice's Ellie Rowsell on the cover and included interviews with Joanna Newsom, Mac DeMarco, CHVRCHES, Arcade Fire's Will Butler, Julien Baker, Everything Everything, The Flaming Lips, Vampire Weekend's Chris Baio, Cullen Omori, EL VY, iZombie's Rose McIver, and many others. The issue also featured a joint interview between Courtney Barnett and Wilco's Jeff Tweedy. This summer, as it has done every U.S. Presidential election year since 2004, Under the Radar will put out another Protest Issue, which will examine the intersection of music and politics and feature photo shoots with musicians holding protest signs of their own making (the autographed signs will then be auctioned for charity).
About Readly: Readly has been called the "Netflix for magazines." Try now for an open 30-day free trial and discover the most convenient way to read magazines on your mobile devices (no credit card required). Also, by RSVPing, attendees are entering to win a $100 Amazon Gift Card courtesy of Readly, who provides a fast and simple way to read what you want, when you want, for one low monthly price.
About Sapporo: Sapporo, the original Japanese beer, is giving away ice-cold bottles of their Sapporo Premium beer. With a rich gold color and refined bitterness, Sapporo Premium delivers an amazingly crisp, perfectly balanced taste and a smooth finish.
About Gretsch Guitars: With roots in the past while maintaining an eye to the future—from the cavernous clubs of Liverpool to the mainstage headliner at Coachella, Gretsch has been the voice of inspiration, personal expression, and musical invention. It's no accident that the sound of a Gretsch has been heard loud and proud on some of the most pivotal recordings ever created. The instrument of choice for musical revolutionaries due to their rich, full sound, smooth playability, and boldly classic visual style, Gretsch and rock 'n' roll have been—and always will be—inseparable partners.
About Polyvinyl Records: Polyvinyl, the long running Champaign-Urbana, Illinois based record label, is one of the sponsors of the Thursday day party. Matt Lunsford and Darcie Knight Lunsford founded the label, starting it as a fanzine called Polyvinyl Press in 1994 and transforming into a record label by 1996. Their artist Pillar Point are playing the Thursday event and other artists on the label include of Montreal, Alvvays, Deerhoof, The Dodos, Japandroids, Wampire, and Xiu Xiu.
About Kanine Records: Kanine Records was founded in Williamsburg, Brooklyn, New York in 2002 by Lio and Kay Kanine while hanging out at their favorite bar, Daddy's Bar. The idea in the beginning was simple. They just wanted to share some of the amazing bands playing around them with the world. With that idea in mind, their first release was NY: The Next Wave, a compilation of unsigned acts from Brooklyn/NYC that had been playing their club nights for the last couple of years. The response was a billion times bigger than both Kay and Lio expected and quickly earned them some worldwide recognition. Renown and success followed quickly, as the label released the critically acclaimed debut albums by Grizzly Bear, Chairlift, and Surfer Blood. Aside from their uncanny ability to discover amazing unknown bands, what distinguishes Kay and Lio from their peers is a unique combination of integrity and passion for music.
Throughout the years the label has released more astonishing albums from great bands including; Braids, Eternal Summers, Young Prisms, The Blow, Royal Baths, Pepper Rabbit, Splashh, Beverly, Flowers, Bleeding Rainbow, The Depreciation Guild, and many more to come. Their artists Hockey Dad and Fear of Men are performing at the Wednesday day party, which they are sponsoring.
About Chromatic Publicity: With offices in Brooklyn, New York, and Austin, Texas, Chromatic was co-founded by Amanda Pitts and Hector A. Silva, who represent more than 30 artists, including Modest Mouse, The Thermals, Julien Baker, Mothers, Girls Names, Cursive, Wild Cub, and many others. Chromatic was founded with one driving objective: to work side by side with creative and talented artists in whom the partners believe. Chromatic offers a spectrum of services, including artist representation across all media, strategic consulting, and publicity content production. Collaborating with close professional contacts, Chromatic works with network and local television programs, national and regional magazines, newspapers, public radio, and online media to promote album campaigns, tours, and performances to create awareness and drive sales for established, as well as up-and-coming, musicians.